Aug 2015 | Free tyre and pressure checks following safety survey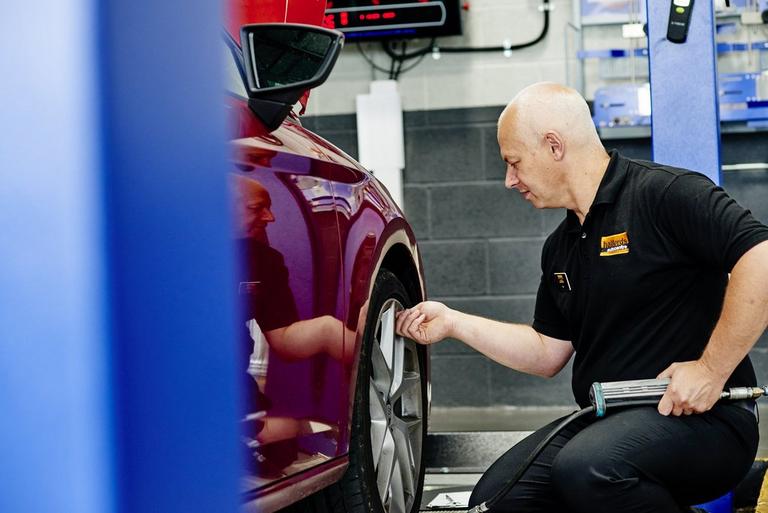 Free checks available at all Halfords Autocentres after survey reveals that almost a quarter of cars on Britain's roads are shod in unfit tyres.
As a recent survey reveals that almost a quarter of cars on Britain's roads are shod in unfit tyres, Halfords Autocentres today issues advice to keep motorists safe.
Halfords Autocentres' tyre expert, Martin Barber, says: "We were surprised that so many UK drivers don't have their tyres checked regularly - tread depth can reduce braking and steering ability especially in unpredictable weather and wet driving conditions. After completing millions of tyre checks to help keep Britain's cars on the roads, we're proud to offer a free tyre check for every motorist."
Halfords Autocentres are offering a free tyre and pressure check - comprising a pressure check and inspect for tread depth, wear and damage by ATA trained technicians - at over 300 autocentres across the UK.
To ensure your car is as safe as it can be on the roads, it's good practice to check your tyres on a regular basis. Incorrect tyre pressures can also cause your tyres to wear abnormally, increasing fuel consumption and shortening the life of your tyres, so Halfords Autocentres recommends motorists undertake the following checks:
Tread depth - the legal limit for the minimum depth of the tread on your tyres is 1.6mm, but performance begins to drop off after falling below 3mm. The wider the tyre, the higher the risk of aquaplaning in the wet so Halfords recommends they should be changed once they reach a depth of 2mm.
Tyre condition - motorists are advised to inspect the tyre for signs of irregular wear or damage such as lumps, bumps or cuts.
Air pressure - check that the vehicle's pressure is at the right level for the load through your car owner's manual or stickers on the fuel flap.