Tyre Brands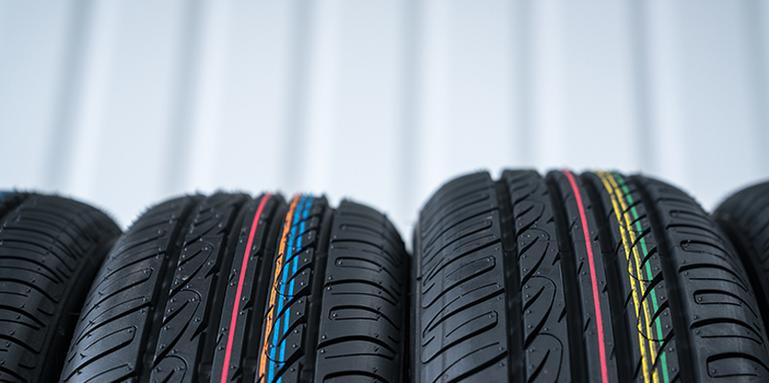 Save up to 30% when you book branded tyres online at Halfords Autocentres.
Altenzo Tyres
If you're looking for performance tyres at low prices, Altenzo are an ideal tyre brand.
Altenzo specialise in bringing high performance specification tyres, generally available in larger sizes from 15" to 20" rims, at affordable prices with no compromise on performance or style. Their Australian-engineered tread patterns are unique and offer excellent performance in all conditions.
With their stunning design and excellent performance you can trust Altenzo tyres on your vehicle.
Avon Tyres
Avon is an outstanding quality tyre brand, providing excellent performance at a reasonable price. They have tyres suitable for a wide array of vehicles, which are all made to exact standards for every element they are designed to perform in. Avon is a UK brand with over 100 years experience which, although now part of the worldwide Cooper tyres brand, still has much of the production here in the UK. It is one of the most reliable tyre brands available and is very popular among fleet companies for the mileage it provides and the value for money.
Avon has been making high quality tyres since 1904, and over the years has not only proved itself on the road but also on the racetracks of the world.
Top-grade materials, high-tech design and manufacturing, more than a century of experience and an unwavering eye for quality. All play a part in making Avon tyres a superb choice.
Continental Tyres
German expertise and cutting edge design makes Continental tyres one of the largest and most respected brands in the world for performance tyres. Their selection of car, van and 4x4 tyres offer outstanding performance, even in wet conditions, while a wide range of winter tyres provides enhanced traction in icy conditions.
Continental is the number one tyre manufacturer in Europe in the passenger and light truck tyre market and number four worldwide. Continental is the market leader in cold weather tyres and automobile OE.
For every car to be launched on the market, Continental work closely with the vehicle manufacturers to carefully plan the tyre down to the last detail. Requirements and requests may vary, but there is one thing that always remains the same: safety first. There is nothing more important to Continental or to their customers than safety. Thanks to the innovative ideas of their research and development team, and their several decades of experience, every Continental tyre is able to combine maximum safety with individual requirements and optimum ride comfort.
Continental's business activities focus on innovations for enhancing safety, developing eco-friendly mobility and maximising comfort and convenience on the road.
Firestone
With a history of innovation spanning over 100 years, Firestone is a trusted brand that has stood the test of time. Today, Firestone continues to inspire generations of drivers both on and off the track with an advanced range of tyres built for safety, reliability and value for money - tyres that not only honour Firestone's proud heritage but also its vision for the future.
Winter Tyres
To Firestone Winter means just one thing: an uncompromising commitment to safety. Offering outstanding control, performance and comfort in a wide variety of conditions, Firestone tyres let you enjoy the very best of Winter.
Run Flat
Let nothing stand in your way. Not even a flat tyre! The all-new Firehawk SZ90µ RFT gives you the fun of optimum performance combined with the added safety, freedom and peace-of-mind of a tyre with Run-Flat Technology. The tyre's reinforced sidewall supports the weight of your car, even in the event of a sudden loss of pressure, for maximum stability and control. Enjoy the freedom of driving up to 50 miles at 50mph on flat tyres and get rid of that spare tyre for good!
Hankook Tyres
Hankook is one of the world's largest and fastest growing tyre manufacturers, ranked amongst the top tyre manufacturers in the world.
Hankook tyres are designed for a range of vehicles from small to large family cars, high performance saloon and sports cars, sports utility and 4x4 vehicles for on and off road use and commercial vans of all types.
Hankook was ?rst introduced in the UK in the early 1980s and since then the company has progressively built a level of brand awareness and reputation for quality equalling that of many longer established brands.
The very latest technologies in materials, construction, design and testing are engaged at all stages in the development and production of Hankook tyres, utilising the combined expertise of more than 600 qualified technicians at Research and Development centres located around the world.
Hankook products are fitted as original equipment by many of the world's leading vehicle manufacturers including Audi, BMW, Chevrolet, Daihatsu, Ford, Hyundai, Kia, Mini, Mitsubishi, Renault and Volkswagen.
Hankook has a growing presence in motorsport where tyres are tested to the extreme. In both rallying and circuit racing around the world Hankook tyres are acknowledged for their performance and notable championship successes have been achieved by many competitors.
Michelin Tyres
For many years Michelin tyres have been the benchmark by which all other tyres are measured, whether it be in car tyres, van tyres, truck or agricultural. Dedicated to innovation, Michelin?s engineers do not leave anything unchecked when they build their tyres and because of this Michelin are well known for their superb grip and their impressive resistance to the highest of temperatures.
With their impressive motorsport history ranging from Formula 1, Le Mans, WRC Rally and numerous other series cups their technical knowhow is second to none. Michelin have been at the forefront in developing the longest lasting tyres, tyres that give the best fuel economy and yet always maintain the highest levels of customer safety.
Pirelli Tyres
Pirelli is distinguished for its long industrial tradition, which has always been combined with capacity for innovation, product quality and brand strength. A strength which, since 2002, has also been supported by the industrial design project of P Zero, and which today has been further recognised by Formula 1, for which Pirelli is the exclusive supplier for the three-year term 2011-2013.
In line with its premium strategy and 'Green Performance', Pirelli, who has always focused on research and development, operates with constant and increasing attention to products and services of high quality and technology and low environmental impact.