Mobile Tyre Fitting

Tyres fitted at your home or work.
Mobile tyre fitting
Tyres fitted at your home or work.
Find out more

Halfords mobile expert
(Selected locations)
Taking time out of your day can be an inconvenience, that's why Halfords Mobile experts come to your home or work, 7 days a week, from 8am to 8pm. Halfords Mobile Expert is a mobile fitting service operated by Halfords and Halfords Autocentres, that allows customers to book online or over the phone.
With over 10,000 tyres in stock and a wide range of brands to choose from, our HME experts will quickly get you back on the road.
Find out if our experts are available in your area.
Book now
*only available in selected locations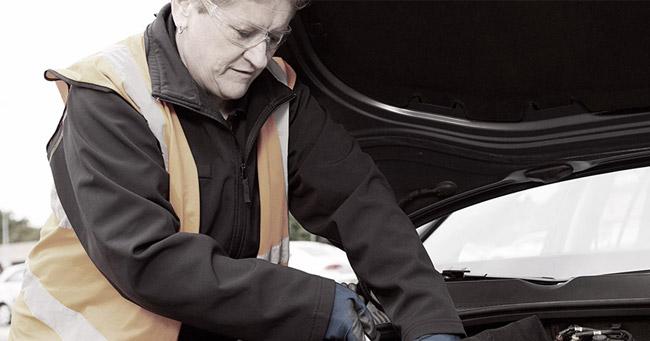 Tyres on the drive
(Nationwide)
We know how inconvenient it can be to be without your vehicle for even a short amount of time, so in partnership with Tyres on the Drive we are now offering the convenience of having your tyres fitted from your workplace or your driveway at home.
Simply follow the link below to visit Tyres on the Drive where you can select your tyres from a comprehensive range of car, van and 4x4 tyres. Arrange a date, time and location that's convenient for your fitting, and a mobile fitter will arrive to fit your new tyres and safely dispose of your old ones
Book now
*only available in selected locations behalf of Halfords Autocentres, and all data you enter will be shared with Tyresonthedrive.com.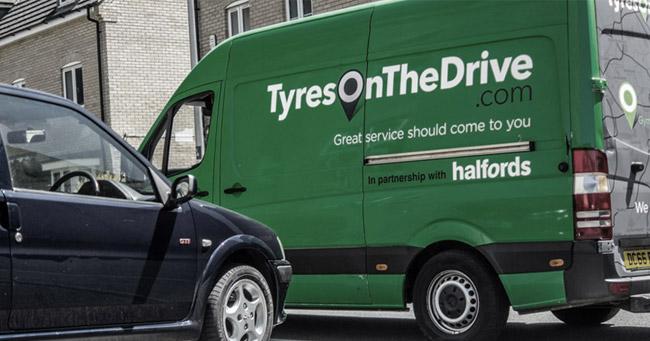 What do i need to do on the day of my tyre fitting?
Just make sure that you have your locking wheel nut key to hand and that the car is in a safe location with space to work around it.
What's included in the tyre fitting price?
There is no charge for mobile tyre fitting when you order two or more tyres. New valves, wheel balancing, disposal of the old tyre and VAT are also included, so what you see is what you pay.
Is mobile tyre fitting available in my area?
While we cover most of the UK, there are still a few places our vans haven't reached yet. We ask for your postcode at the same time as your tyre size so that we can confirm we're in your area.
Is mobile tyre fitting available at weekends and evenings?
We fit 7 days a week, from 8am until 8pm. Who needs evening fitting slots when we can come and change your tyres while we're at work, in your work car park, during the day?
What if I need to book something else as well as tyres?
Additional services such as MOTs, servicing or wheel alignment can only be carried out in our garages, so please book these separately.
Can I have my tyres fitted at a garage instead?
If you'd prefer to have your tyres fitted at a Halfords Autocentre, please start your journey here.