How To Choose the Best Tyres For Your Vehicle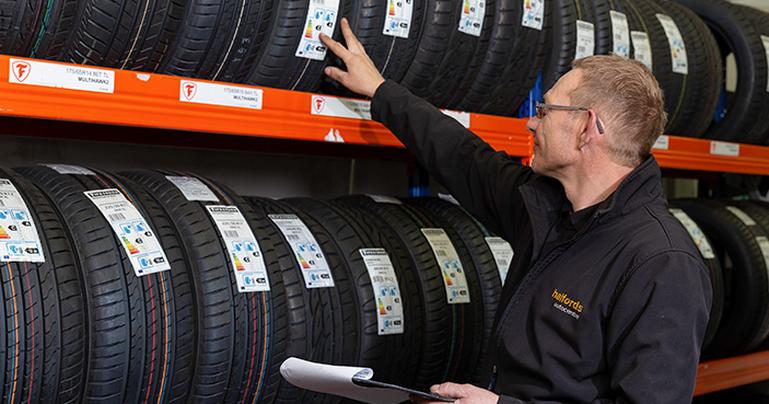 With thousands of tyres available, choosing the right tyre for your car, van, 4x4 or campervan and for your individual driving needs may seem daunting.
With thousands of tyres available, choosing the right tyre for your vehicle and individual driving needs may seem daunting. Here is a guide to the different tyres available and the points to consider when choosing your new tyres.
Tyre Size
Firstly, establish your vehicle's tyre size. You can find this on the wall of your tyre and in your vehicle's handbook. It looks like this:
What do the numbers mean?
Section width
The width of the tyre in millimetres.
Aspect ratio (Profile)
The ratio of the tyre's width to height, as a percentage.
What do I need to know?
A low profile tyre (short sidewall vs width) gives a firmer ride with better handling, but tends to be noisier and more expensive than tyres with a higher aspect ratio.
Rim diameter
The diameter of the rim which the tyre is to be fitted to, in inches.
Load rating
Indicates the maximum load that each tyre can support.
Speed rating
The speed rating indicates the maximum speed at which the tyre can carry a load corresponding to its load rating.


| | | | |
| --- | --- | --- | --- |
| Code | mph | Code | mph |
| Q | 100 | V | 149 |
| R | 106 | Z | Over 149 |
| S | 112 | W | 168 |
| T | 118 | (W) | Over 168 |
| U | 124 | Y | 186 |
| H | 130 | (Y) | Over 186 |
Quality and Price
Once you know the right tyre size for your vehicle, you'll need to think about the quality of tyre that will best suit your needs. All tyres on sale in the UK will meet strict safety standards, however a better quality tyre will last more miles and give you a better driving experience.
Premium tyres
Thanks to the high quality construction and materials used in manufacturing, premium tyres will generally last for 15,000 to 20,000 miles under normal usage.
Heavy investment in research, design and technology means that premium tyres benefit from improved stopping distances, fuel economy, grip (especially in wet conditions) and lower noise levels.
Try Bridgestone, Continental, Dunlop, Goodyear, Michelin or Pirelli.
Mid-range tyres
If premium tyres are out of your price range you may wish to consider mid-range tyres. The brands may not be quite as well known as the premium brands, but you still get a sense of the technology which has gone into their development.
Mid-range can provide great value for money and depending on the type of driving that you do they can also prove to have a long life span.
Try Avon, BF Goodrich, Falken, Firestone, Hankook, Kumho, Toyo, Uniroyal or Yokohama.
Budget tyres
In summer, budget tyres will perform as well as premium tyres, however they will normally only last for 7,000 to 8,000 miles and will not perform as well in wet or wintry conditions.
Vehicle type
Cars, vans, 4x4s and camper vans all require specific tyres, so make sure you have the right type for your vehicle.
Look out for these symbols on our site:
Run-flat?
Run flat tyres most only be fitted to cars that they are designed for. They are designed to keep you moving for a short time should you suffer a puncture.
You can identify run-flat tyres on our site by this symbol:
Season
Most drivers in the UK keep summer tyres on their car all year round, but you may wish to consider winter tyres or all-season tyres for optimum performance.
Look out for these symbols on our site:
Need more help?
If you have a particular requirement or need more help to find the right tyre for your car, please call your local autocentre who will be more than happy to help.
Ready to look for tyres?
At Halfords Autocentre we offer branded tyres at great value prices. We will fully fit your new tyres and dispose of your old tyres according to environmental standards.