What service does my car need?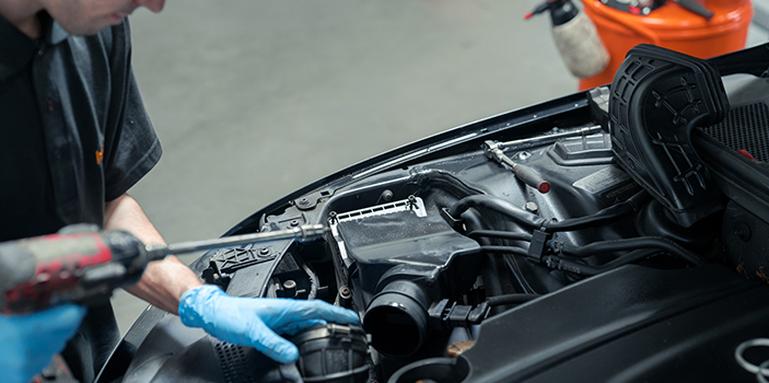 With a variety of car service options to choose from, decide which service option is right for your vehicle with our helpful guide to choosing the right service.
Our Prices
Interim Service
From

£69

Full Service
From

£139

Major Service
From

£195
The purpose of a Car Service is to check and replace the parts which wear down over time and use. To keep your car running smoothly year round, some parts, such as oil, brake pads, fuel filters and spark plugs need checking more regularly than others.
Every car is different, so to find out what needs replacing and when, we recommend checking your manufacturer's handbook.
Which Service should I choose, and when?
There are three levels of servicing available at Halfords Autocentres. By choosing a combination of these Services, the essential parts will be checked within most manufacturer's recommendations (in fact, our Services actually exceed most manufacturer's recommendations, see our full checklist of what is included in each Service).
Even if your car is used very little, it will still require regular servicing as many parts degrade even when not in use.

Interim Service
Recommended interval:
6 months or exceeding 2000 miles a month
---
The Interim Service is designed for the high mileage car user, or vehicles which require frequent checks. We test all the main moving parts that may need attention over a short period of time. The interim service should be performed at 6 month intervals between annual services.
---

Full Service
Recommended interval:
12 months or 12,000 miles
---
The Full Service is among the most comprehensive annual services available, comprising 69 individual maintenance checks. It exceeds the recommendations made by most manufacturers of checks, refills and replacements to be performed annually and will help ensure trouble-free motoring.
---

Major Service
Recommended interval:
24 months or 24,000 miles
---
The Major Service is our most comprehensive car service product, and covers parts that are regularly recommended for replacement every two years such as your brake fluid and cabin filter.
---
---
Depending on your annual mileage or manufacturer recommendation, Services should be carried out as follows:
Low to average mileage
| | Interim | Full | Major |
| --- | --- | --- | --- |
| 6 months | | | |
| 12 months | | ✔ | |
| 18 months | | | |
| 24 months | | | ✔ |
High mileage
| | Interim | Full | Major |
| --- | --- | --- | --- |
| 6 months | ✔ | | |
| 12 months | | ✔ | |
| 18 months | ✔ | | |
| 24 months | | | ✔ |
The three levels of service are designed to meet the needs of cars no matter their age, condition or history, and all our work is protected by our Quality and Price Guarantee for your peace of mind.
At Halfords Autocentres, we offer three levels of Car Servicing depending on your needs. We operate 300+ autocentres nationwide, and each one is equipped with the latest diagnostics equipment to ensure we're able to Service any make and model of car.
What's more, our knowledgeable and approachable technicians are ATA-trained to the highest possible standard, so you can relax knowing your vehicle is in safe hands with us.

Book a Car Service today and choose a time and date to suit you.
---