Volkswagen Service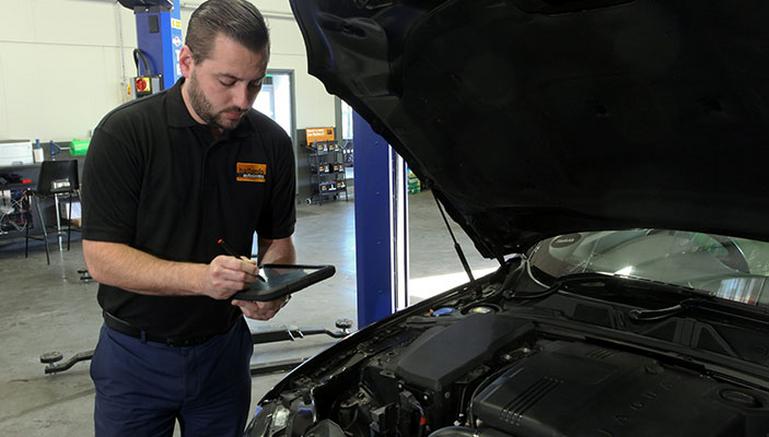 On average save 32% compared to dealership VW service costs! Our experts provide quality Volkswagen servicing that protects your warranty. Book yours today.
Save 32% on dealerships' Volkswagen service costs (ave)*
Protect your Volkswagen warranty
Quality, expert servicing with Original Equipment parts
Recommended by 9 out of 10 customers!†
Whether your Golf feels off its game, your Passat seems past it, or it's simply time you gave your VW a bit of TLC, Halfords Autocentres' Volkswagen servicing will keep your car in great shape at a great price.
On average, customers save 32% on official VW service centre prices.* So book today for trusted servicing that keeps your wallet happy!
Warranty Protection
Halfords Autocentres' independent VW servicing offers warranty protection, just like an official Volkswagen service centre. This is because our Interim, Full and Major Service levels are designed to meet or exceed the recommended Volkswagen service schedule.
By offering truly comprehensive servicing and using genuine or OE (Original Equipment) parts, we follow 2003's European Block Exemption Regulation, which allows independent garages to offer full warranty protection. In 2014, we serviced 10,6437 Volkswagen vehicles alone.
Choosing the right Volkswagen service
We've put together the table below to help you choose VW car servicing based on the mileage of your car and the time since your last service.
If you need help choosing a service level to suit your car, see our guide to what's included.
Low to average mileage
| | Interim | Full | Major |
| --- | --- | --- | --- |
| 6 months | | | |
| 12 months | | ✔ | |
| 18 months | | | |
| 24 months | | | ✔ |
High mileage
| | Interim | Full | Major |
| --- | --- | --- | --- |
| 6 months | ✔ | | |
| 12 months | | ✔ | |
| 18 months | ✔ | | |
| 24 months | | | ✔ |
VW service costs
Engine size
Volkswagen models

Interim

Full

Major

<1200
FOX 55, URBAN FOX 55

from

£85

from

£155

from

£219

1200 - 2000
BEETLE, BORA S, CADDY, EOS, GOLF

from

£105

from

£175

from

£239

>2000
TOUAREG, TRANSPORTER TDI SWB, T-SPORTER T30 130 TDI LWB

from

£135

from

£205

from

£269
Book online now and enter your registration number to get a quote for your car.
On average, you can expect to save around 32% on the price you'd pay in an official VW service garage!*
Use the table opposite to get an idea of our Volkswagen service prices.
Our Price Promise
You can expect great value as standard when you visit Halfords Autocentres. We're confident you won't find VW servicing of an equivalent quality or for a better price. That's why we offer a like-for-like price matching service in the form of our Price Promise. •
Our Quality Guarantee
Unlike some garages, we don't cut corners. That's why we offer a full 12-month guarantee on all parts and labour. This applies to all our services, including Volkswagen repairs and servicing.◊
VW parts or OE equivalents - as standard
The expert technicians at our Autocentres use a combination of the latest car servicing techniques, our state-of-the-art diagnostic equipment and genuine manufacturer or OE (Original Equipment) standard parts.
OE parts are of equal quality to manufacturer parts and are often the same parts used by Volkswagen themselves, they just may not have been manufactured by Volkswagen.
Manufacturer's service
You can choose a manufacturer's service that follows the recommended VW service to the letter. Our service levels may be slightly different to a manufacturers' service, but this is typically because they are more comprehensive.
In rare instances a manufacturer's service may be required to keep your car's warranty valid. Contact us for more details.
Add a VW MOT
Want to save even more money? Book your Volkswagen MOT and car service together!
Book VW servicing today
Book a VW car service at your local Halfords Autocentre now. With our nationwide network of Autocentres, we can often fit you in quicker than a main dealer!
* Based on independent telephone research of 44 Volkswagen dealerships across Great Britain, comparing our in-centre price list against the price quoted for a full car service at the dealership, research carried out in February 2014.
† Based on 4000 customers completing a feedback form every month.
• If you find the same goods or service cheaper within 3 miles of the autocentre and within 7 days, we will refund the difference.
◊ Guarantee valid on parts and labour for 12 months or 12,000 miles, whichever is soonest. Excludes rental cars, private hire vehicles and taxis.