Vauxhall Service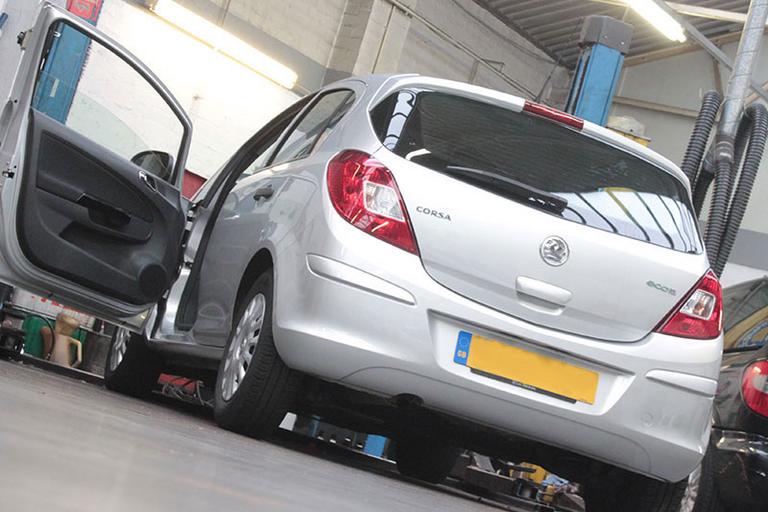 Save an average of £44 when you book a Vauxhall service at Halfords Autocentres. Protect your warranty with quality, independent car servicing.
test
WHAT OUR CUSTOMERS SAY ABOUT US
" Excellent service
I now prefer to go to Halfords instead of my Vauxhall main dealer"
-Mr Walton
Whether you drive an Astra, Corsa, Insignia, or any other Vauxhall model, here at Halfords Autocentres we can provide you with a service for less!
With over 300 autocentres nationwide and online booking we can also generally book you in much faster than your Vauxhall garage, making life more convenient for you.
Quality Vauxhall servicing that protects your warranty
Save an average of £44* on dealership prices
Genuine Vauxhall or OE (Original Equipment) equivalent parts
9/10 customers say they'd recommend us to a friend! †
What about my vehicle's warranty?
Our expert technicians will go above and beyond to ensure your vehicle's service meets Vauxhall standards, the introduction of 'Block Exemption' legislation in 2003 means that Halfords Autocentres are able to carry out a Vauxhall service whilst protecting your warranty.
With the added benefit of knowing your manufacturer's warranty will be upheld, you can rest easy that we have the expertise and diagnostic equipment to maintain your car to the same standard as your Vauxhall dealer.
Which service should I choose?
Here at Halfords Autocentres we offer a range of services from just £85 (Interim Service, Full Service and Major Service).
Use our helpful guide below to choose the service option which will best meet or exceed Vauxhall's standards, for more information see What's Included.
Low to average mileage
| | Interim | Full | Major |
| --- | --- | --- | --- |
| 6 months | | | |
| 12 months | | ✔ | |
| 18 months | | | |
| 24 months | | | ✔ |
High mileage
| | Interim | Full | Major |
| --- | --- | --- | --- |
| 6 months | ✔ | | |
| 12 months | | ✔ | |
| 18 months | ✔ | | |
| 24 months | | | ✔ |
Do Halfords Autocentres use quality parts?
For all our services we use either genuine Vauxhall or OE (Original Equipment) equivalent parts, OE equivalent means the parts have not necessarily been manufactured by Vauxhall but are the same specification used by the company.
Our technicians go out of their way to deliver a comprehensive service - from using exclusively top quality Castrol oil to taking the wheels off your car every time, having a Vauxhall service at any one of our Halfords Autocentres will keep your car running smoothly.
Our Price Promise
Engine size
Vauxhall models

Interim

Full

Major

<1200
ASTRA CLUB CDTI, CORSA, CORSA SXI, CORSA LIFE A/C, CORSA ENVOY 12V

from

£85

from

£155

from

£219

1200 - 2000
ASTRA, INSIGNIA, VECTRA ELITE DTI 16V AUTO, TIGRA, MERIVA, ZAFIRA EXCLUSIV

from

£105

from

£175

from

£239

>2000
INSIGNIA, VECTRA, MOVANO, MERIVA, VECTRA GSI V6, VECTRA VXR

from

£135

from

£205

from

£269
At Halfords Autocentres our prices are great value for money, save an average of £44* on dealership prices with our Vauxhall service, if you find the same service for less, we'll refund the difference.•
To help calculate the cost of your service, please refer to the table on the right.
Alternatively, you can get a quote for your Vauxhall by submitting your vehicle registration when you book a service online.
Manufacturer's Service
If you require a specific manufacturer's service, here at Halfords Autocentres we will follow Vauxhall's specific service schedule, we're confident that our menu services will meet or exceed Vauxhall's standards, however in a small number of cases a manufacturer's service may be required to protect your warranty.
Add an MOT
For even greater savings take advantage of our combined MOT and servicing deals.
Book Now
Book your service online today or call your local Halfords Autocentre on 0800 096 4216 to get a specific Vauxhall service quote.
* Based on independent telephone research of 56 Vauxhall dealerships across Great Britain, comparing our in-centre price list against the price quoted for a full car service at the dealership, research carried out in February 2014.
† Based on 4000 customers completing a feedback form every month.
• If you find the same goods or service cheaper within 3 miles of the autocentre and within 7 days, we will refund the difference.