Rover Service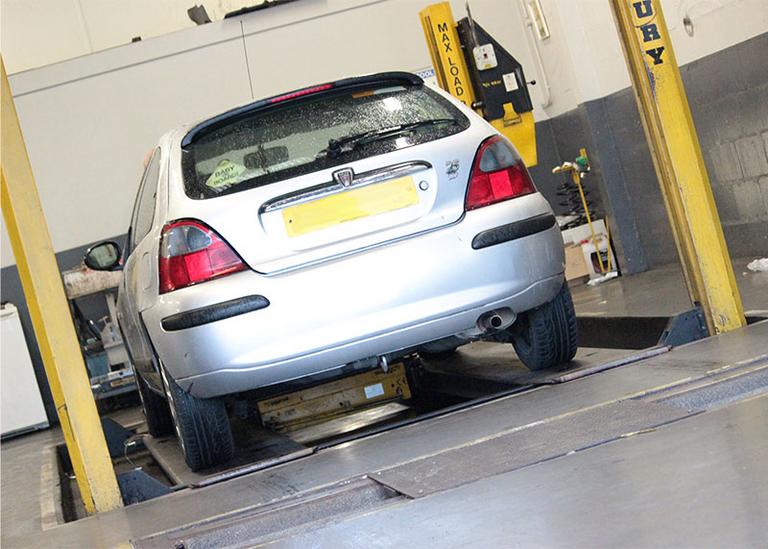 Protect your car's warranty with Rover servicing completed by the experts. We use OE parts in all of our Rover car service options. Book your service today!
We service all Rover models
Genuine or OE (Original Equipment) parts used as standard
Work and parts guaranteed for 12,000 miles or 12-months
Rover warranty protection
Our expert technicians carry out Rover servicing that meets or exceeds the standards set by the manufacturer. Whether you own a Rover 75, an 800 or a CityRover - there's a car service option for you.
Use our online booking system and book your car in for an Interim, Full or Major Service at your local Autocentre today.
Warranty protection
The 2003 European Block Exemption Regulations enable our experts to complete a Rover car service on your vehicle without invalidating its warranty. You can rest assured when you bring your car to a Halfords Autocentre for a service your warranty is always protected.
When carrying out any work on your car, where possible, we'll always use genuine parts produced by the manufacturer. If manufacturer parts aren't available, we'll use OE (Original Equipment) parts. They're built to the same specification and are of the same quality standard.
Our Rover service options
At Halfords Autocentres, we offer three service options - Interim, Full and Major. It doesn't matter which model you own, there's a service option for you.
We've created the Rover car service guide below to help you determine which of our options is best for your car. Still unsure of which one your car requires? Don't worry, visit our guide to what's included or contact a member of our team on 0800 096 4216.
Low to average mileage
| | Interim | Full | Major |
| --- | --- | --- | --- |
| 6 months | | | |
| 12 months | | ✔ | |
| 18 months | | | |
| 24 months | | | ✔ |
High mileage
| | Interim | Full | Major |
| --- | --- | --- | --- |
| 6 months | ✔ | | |
| 12 months | | ✔ | |
| 18 months | ✔ | | |
| 24 months | | | ✔ |
Our Price Promise
Engine size
Rover models

Interim

Full

Major

<1200
-

from

£85

from

£155

from

£219

1200 - 2000
75, 214 I 16V, 25 IMPRESSION 3, 45 ADVANTAGE

from

£105

from

£175

from

£239

>2000
75 CLUB SE AUTO

from

£135

from

£205

from

£269
When you bring your car to a Halfords Autocentre branch you'll get an honest service and great value for money. We're confident that you won't find the same Rover service at a lower price. If you do, you're protected by our Price Promise.•
Our Price Promise is simple - if you find another garage or service centre offering the same service you've had completed by us at a lower price within 7 days, we'll refund the difference.
We also quote upfront - our technicians always inform you of how much the service is going to cost before carrying out any work. Our transparent approach ensures you don't have to worry about hidden costs.
Work out the cost of your Rover service with our price guide table. Or, get a quote bespoke to your model when you enter your vehicle's registration number online - book today!
Rover servicing completed with Original Equipment (OE) parts
The expert technicians at our Autocentres use a combination of the latest car servicing techniques, our state-of-the-art diagnostic equipment and genuine manufacturer or OE (Original Equipment) standard parts to maximise the lifespan and value of your car.
Across all of our Rover service options, we use parts manufactured by Rover or, if this isn't possible, those of an equivalent quality standard - OE parts. By using these manufacturer-approved parts we can ensure the warranty on your vehicle remains valid.
Our commitment to meeting the highest quality standards has seen 9 out of 10 customers say they'd recommend Halfords Autocentres to a friend!†
Manufacturer's service
Our servicing has been designed to meet or exceed the standards set by the manufacturer. However, in rare instances, you may need a Rover car service that follows the full manufacturer schedule in order to protect your car's warranty.
Contact your local Halfords Autocentre today to find out more or book a manufacturer's service today.
Rover MOT
Due to book your Rover in for a MOT? By booking a combined Rover MOT and service you could make a significant saving. View our full selection of current MOT and service deals.
Book Now
Book a Rover service today with our easy-to-use online booking system.
Alternatively, if you'd like a manufacturer's service, call us for a quote on 0800 096 4216.
† Based on 4000 customers completing a feedback form every month.
• If you find the same goods or service cheaper within 3 miles of the autocentre and within 7 days, we will refund the difference.