Porsche Service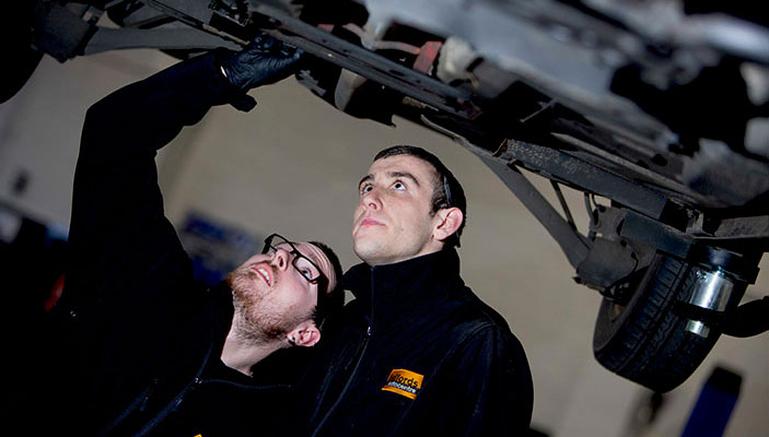 Porsche servicing that meets or exceeds manufacturer-set standards. Our technicians can complete services on any model. Book a Porsche car service today!
Porsche servicing for any model
Your warranty is always protected
Get your Porsche service book stamped
The work we complete and parts we use are guaranteed for 12-months/12,000 miles
Carried out by our trained technicians, our Porsche car service options are designed to meet or exceed the standards set by the manufacturer.
In many instances we can offer a service for your vehicle much sooner than your local Porsche service centre or dealership. Book your Porsche service online today!
Warranty protection
When you book your Porsche in for a service, you want to ensure its warranty remains valid. Block Exemption Regulation introduced in 2003 enables our technicians to work on your model without invalidating its warranty.
From the parts we use to the checks our technicians carry out whilst servicing your vehicle, all elements of our Porsche servicing is designed to meet or exceed manufacturer-set standards.
Our Porsche car service options
Here at Halfords Autocentres we offer three main Porsche service options. Each one includes a number of different checks - see a full breakdown of the checks we carry out for each service level.
Low to average mileage
| | Interim | Full | Major |
| --- | --- | --- | --- |
| 6 months | | | |
| 12 months | | ✔ | |
| 18 months | | | |
| 24 months | | | ✔ |
High mileage
| | Interim | Full | Major |
| --- | --- | --- | --- |
| 6 months | ✔ | | |
| 12 months | | ✔ | |
| 18 months | ✔ | | |
| 24 months | | | ✔ |
If you're still not sure which of our service options you require, give our friendly team a call today on 0800 096 4216.
Porsche MOT
We offer a selection of combined MOT and service packages designed to save you money. See our current range of MOT and service offers.
Genuine Porsche or OE (Original Equipment) equivalent parts
Regardless of the service level you opt for, our technicians use genuine manufacturer or OE (Original Equipment) parts that are of an equivalent quality standard. We do this to maximise the lifespan and value of your car. Although they aren't manufactured by Porsche, OE parts are designed to the same high quality specification.
Porsche servicing - quality workmanship
We're committed to high quality standards with every service we complete. When you bring your car in for a service, we'll use a combination of the latest servicing equipment, proven techniques and genuine Porsche or OE parts.
Our commitment to high quality workmanship means we'll go to further lengths to make sure you get a fantastic service and value for money. Often, the Porsche car servicing our technicians complete is more detailed than that completed by a Porsche service centre or garage.
Halfords Autocentre Price Promise
As well as offering a high quality service, we also offer great value for money. We're so confident that you won't find a Porsche car service at a lower price, we ensure you're protected by our Price Promise•.
With our Price Promise we'll refund you the difference if you find a local Porsche service centre or dealer offering the same service you've had completed by our technicians at a lower price within 7 days.
Manufacturer's service
In addition to our three menu service options, we offer a manufacturer's service that follows the Porsche service schedule. On some rare occasions a manufacturer's service may be required to protect your car's warranty.
If you want to find out more about a manufacturer's service, contact your local Halfords Autocentre.
Book today
Book your Porsche service online today!
To book a Porsche manufacturer's service, call 0800 096 4216 to speak to your local Autocentre.
•If you find the same goods or service cheaper within 3 miles of the Autocentre and within 7 days, we will refund the difference.