Nissan Service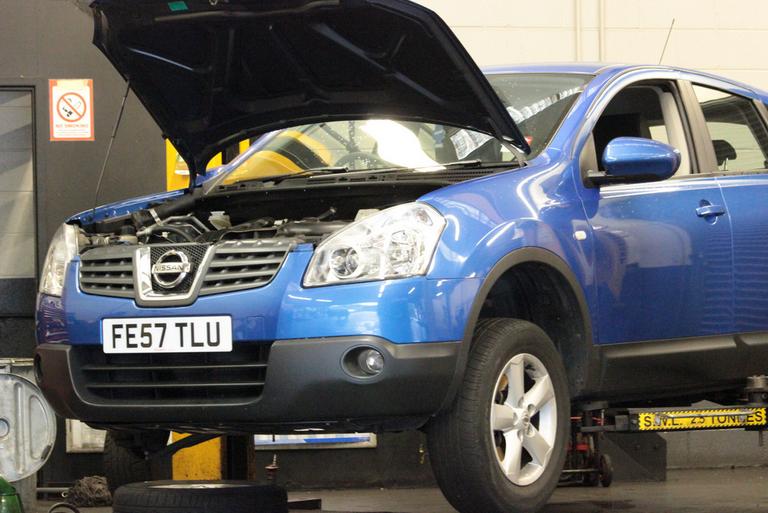 Keep your car in good health and protect your warranty with quality Nissan servicing from Halfords Autocentres. Book a Nissan service and save 24%! (Avg.)
Protect your Nissan warranty
Save an average of 24% on main dealer service prices*
Quality Nissan servicing with genuine or OE parts
The best prices locally - or we'll refund the difference!•
Protect your Nissan warranty, keep your car in good working order and save cash with Halfords Autocentres!
We offer quality Nissan servicing and expert advice for all makes and models - from Qashqais to Micras to GTRs. That's why 9 out of 10 customers say they'd recommend us to a friend.†
Nissan warranty protection
There's no need to worry about your warranty. Thanks to block exemption legislation (introduced in 2003), you're free to visit any service centre as long as OE (Original Equipment) parts are used, Original Equipment parts match the quality standards demanded by Nissan itself, however, where possible we will use genuine Nissan parts.
Our Nissan service options start from just £79 and are designed to meet or exceed recommended service schedules - plus we're 24%* cheaper on average and we'll often cover points that a manufacturer will miss!
Choosing Nissan servicing that's right for you
Whichever Nissan model you own, we're dedicated to providing comprehensive servicing which will help keep your car running smoothly.
Use the table below to help choose a Nissan car service option that suits your vehicle, or call 0800 096 4216 to speak to a friendly advisor.
See What's Included for a full service breakdown.
Low to average mileage
| | Interim | Full | Major |
| --- | --- | --- | --- |
| 6 months | | | |
| 12 months | | ✔ | |
| 18 months | | | |
| 24 months | | | ✔ |
High mileage
| | Interim | Full | Major |
| --- | --- | --- | --- |
| 6 months | ✔ | | |
| 12 months | | ✔ | |
| 18 months | ✔ | | |
| 24 months | | | ✔ |
Guaranteed quality workmanship
You can rest assured that your car is in good hands. We go the extra mile to ensure our Nissan servicing keeps your car running without a hitch - you'll also get a 12,000-mile or 12-month guarantee on all work and parts.
Our Price Promise
Engine size
Nissan models

Interim

Full

Major

<1200
MICRA, MICRA S, MICRA VISIA

from

£79

from

£149

from

£215

1200 - 2000
ALMERA ACTIV, JUKE TEKNA, NOTE ACENTA, PRIMERA GX AUTO, QASHQAI ACENTA

from

£99

from

£169

from

£235

>2000
350Z, 350Z GRAN TURISMO 4, 370Z GT V6, NAVARA TEKNA D/C DCI 188, PATHFINDER

from

£129

from

£199

from

£265
From the moment your car leaves our Autocentre, you're protected by our Price Promise.
This means that if you find a better price for the same service locally, we'll refund the difference. It's that simple!•
To get an idea of how much your Nissan service will cost, please refer to the adjacent table.
Or, you can get a quote that's tailored to your car by entering your registration when you book a service online.
Manufacturer's Service
If you require a specific manufacturer's service, here at Halfords Autocentres we will follow Nissan's specific service schedule, we're confident that our menu services will meet or exceed Nissan's standards, however in a small number of cases a manufacturer's service may be required to protect your warranty.
Add an MOT
For even greater savings take advantage of our combined MOT and service deals.
Book Now
Book a Nissan service online today from just £79 - or call 0800 096 4216 to arrange a manufacturer's service.
+ Based on independent telephone research of 24 Nissan dealerships across Great Britain, comparing our in-centre price list against the price quoted for a full car service at the dealership, research carried out in February 2014.
†Based on 4000 customers completing a feedback form every month.
• If you find the same goods or service cheaper within 3 miles of the autocentre and within 7 days, we will refund the difference.