Mitsubishi Service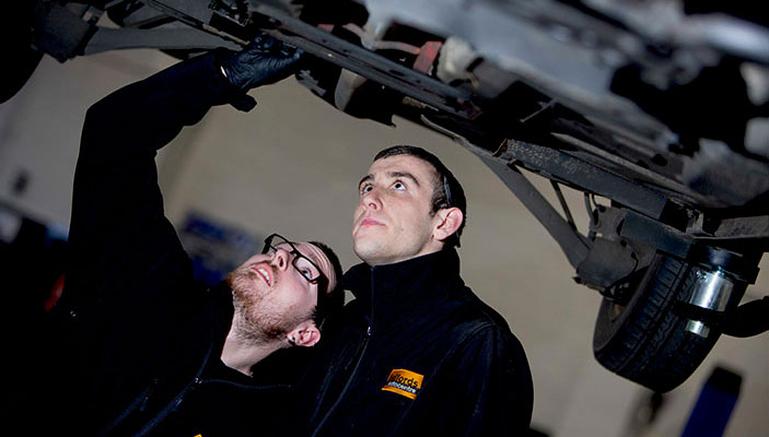 Keep your Mitsubishi moving and protect your warranty with top-quality Mitsubishi servicing from Halfords Autocentres. Book a service today!
Save on your Mitsubishi servicing costs
Protect your warranty
Get genuine Mitsubishi parts or OE-standard parts
All work guaranteed for 12 months or 12,000 miles
With more than 300 Autocentres across the country staffed by trained technicians, it's easy to book quality, independent Mitsubishi servicing. Our servicing protects your warranty and could save you time and cash too!
We can service any Mistubishi model, whatever its age and condition, book your car's service online now.
Your warranty - protected
Worried about protecting your car's warranty? Don't be, at Halfords Autocentres our quality servicing will ensure your warranty remains intact.
We use Original Equipment-quality parts, in line with European Block Exemption Regulation. This means you're free to visit Halfords Autocentres for your service without worrying about your warranty - there's no need to visit an official Mitsubishi service centre!
Choosing the right service
Our menu services are designed to meet or exceed the majority of manufacturers' service recommendations, including those of Mitsubishi.
Choose from three service levels - Interim, Full and Major - based on the age and condition of your car.
We've put together this simple table to help you choose the right one for your vehicle. For more information on what service is right for your Mitsubishi, see What's Included.
Low to average mileage
| | Interim | Full | Major |
| --- | --- | --- | --- |
| 6 months | | | |
| 12 months | | ✔ | |
| 18 months | | | |
| 24 months | | | ✔ |
High mileage
| | Interim | Full | Major |
| --- | --- | --- | --- |
| 6 months | ✔ | | |
| 12 months | | ✔ | |
| 18 months | ✔ | | |
| 24 months | | | ✔ |
Mitsubishi service costs
Engine size
Mitsubishi models

Interim

Full

Major

<1200
COLT CZI, COLT MIRAGE, SPACE STAR MIRAGE

from

£85

from

£155

from

£219

1200 - 2000
ASX 3 CLEAR TEC DI-D, CARISMA GLSI AUTO, COLT CZT TURBO

from

£105

from

£175

from

£239

>2000
GRANDIS CLASSIC, SHOGUN SPORT EQUIPPE TD, L200BARB LB DCB DI-D4X4 A

from

£135

from

£205

from

£269
Our menu services start from just £79. Take a look at the table provided to get the estimated cost of your Mitsubishi car service.
Remember, the service our technicians carry out is often more comprehensive than the equivalent dealership service. And 9 out of 10 customers say they'd recommend us to a friend!†
Book Online now to see Mitsubishi service prices that are tailored to your car.
Our Price Promise
You won't find better Mitsubishi service prices at another local service centre. We're sure of it.
That's why we offer a Price Promise to all our customers. This means we'll refund the difference if you find a cheaper service elsewhere! •
This goes for all our products, from a comprehensive Major Service to a Mitsubishi air conditioning service.
How to book a manufacturer's service
If you'd prefer, you can book Mitsubishi servicing that doesn't deviate at all from the manufacturer's service schedule.
Very occasionally, a manufacturer's service may be necessary to safeguard your warranty. To book a manufacturer's service, call your local Halfords Autocentre.
Add an MOT
MOT time? Save cash by booking your test at the same time as your service. Take a look at our great MOT and service offers.
Book your service now
Book online now and choose a time and date that's convenient for you. With 300+ Autocentres nationwide, we may be able to book you in quicker than a Mitsubishi-authorised service centre.
To book a manufacturer's service, call: 0800 096 4216.
† Based on 4000 customers completing a feedback form every month.
• If you find the same goods or service cheaper within 3 miles of the Autocentre and within 7 days, we will refund the difference.