MINI Service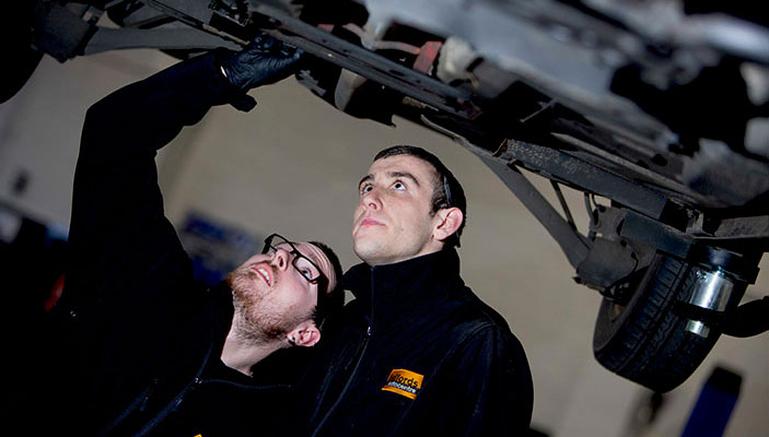 Protect your warranty and get a stamp in your MINI service book. Our MINI servicing options cater for any model, regardless of age or condition. Book today!
MINI servicing completed to manufacturer standards
Warranty protection
Get a stamp in your MINI service book
Genuine MINI or OE (Original Equipment) parts used as standard
Whether you need a MINI Cooper service or your Clubman is due an MOT, Halfords Autocentres' experts can deliver quality workmanship that won't invalidate your MINI's warranty. Book a MINI service with us today.
Warranty protection
Thanks to 2003 Block Exemption Regulations, here at Halfords Autocentres we offer MINI car servicing that doesn't affect your car's warranty.
All of our MINI servicing options are designed to meet or exceed the standards set by the manufacturer. Our technicians are also trained to work on any MINI model - regardless of its age or condition.
MINI service options
Whatever MINI you drive, whether it's a MINI cooper or Countryman, we have all models covered with our three main service options - Interim, Full and Major.
Use our service guide below to determine which of our service options is most appropriate for your vehicle. Still unsure of which option to go for? Contact our team today for more advice on 0800 096 4216.
Low to average mileage
| | Interim | Full | Major |
| --- | --- | --- | --- |
| 6 months | | | |
| 12 months | | ✔ | |
| 18 months | | | |
| 24 months | | | ✔ |
High mileage
| | Interim | Full | Major |
| --- | --- | --- | --- |
| 6 months | ✔ | | |
| 12 months | | ✔ | |
| 18 months | ✔ | | |
| 24 months | | | ✔ |
MINI servicing - carried out to a manufacturer standard
Every MINI service we carry out at our Autocentres is completed to a standard that meets or exceeds those outlined by the manufacturer. Our experienced technicians use the latest car servicing techniques, advanced equipment, high quality parts and materials - such as Castrol Oil - to ensure your car is maintained to an excellent standard. In fact, the checks we carry out are often more detailed than those carried out by a MINI service centre or dealership.
How much will my MINI service cost?
Get a quote for your MINI's service by entering your registration number when you book online. Try it today!
After you've had your car serviced by us, you're protected by our Price Promise•. With our Price Promise you never pay more for your MINI service than you have to. If you find the same service you've had completed by us at a lower price within 7 days, we'll happily refund the difference. It's that simple.
Do you use genuine MINI parts?
Where possible we use genuine MINI parts. However, if this isn't possible we'll use what's known as Original Equipment (OE) equivalents. They're not built by the manufacturer but they're of the same specification and high quality standard as those produced by MINI.
Add an MOT
If you book your car in for a combined MINI MOT and service you could save even more. View our MOT and servicing deals.
A manufacturer's service
Our standard MINI service is completed to a high standard, but in some rare instances your vehicle may require a service that follows the MINI service schedule exactly to protect your warranty.
We offer a manufacturer's service for any MINI model. If you want to find out more or you wish to book a manufacturer's service, contact your local Halfords Autocentre today.
Book your MINI Service
A MINI car service completed by experts - book now!
To book a manufacturer's service, call 0800 096 4216 to speak to your local Autocentre.
•If you find the same goods or service cheaper within 3 miles of the Autocentre and within 7 days, we will refund the difference.