Kia Service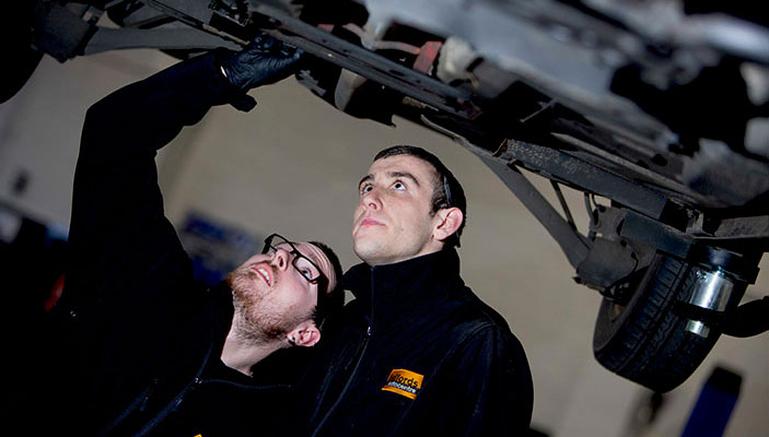 If it's time for your Kia's service, you can rely on Halfords Autocentres to keep your car running without trouble.
Trusted Kia servicing that safeguards your car's warranty
Enjoy big savings on official Kia garage prices
Our Kia service options meet or exceed dealership standards
9 out of 10 customers would recommend us to friends†
If it's time for your Kia's service, you can rely on Halfords Autocentres to keep your car running without trouble.
We use OE (Original Equipment) parts to ensure your warranty remains valid. And with hundreds of branches nationwide, you'll have no trouble booking your car in at an Autocentre near you.
Kia servicing - is my warranty affected?
You don't need to visit Kia-authorised service centres to protect your warranty. Book a service at your local Halfords Autocentre and you'll drive away with a valid warranty - and you may well save some money too!
We're backed up by European Block Exemption Regulation, introduced in 2003. This means that we're free to offer great-value Kia car servicing that offers the same warranty protection that you'd get at an official Kia service centre.
Get more, pay less
When you book a Kia car service with Halfords Autocentres, you benefit from our great-value service options and the unrivalled expertise of our technicians.
We know you expect great quality for your money. That's why we aim to exceed many manufacturers' service schedules. For example, we use only Castrol oil - universally recognised for its high quality.
What's more, if you do find the same service offered at a better price locally, we'll refund the difference! That's our Price Promise.•
Choosing a Kia car service
Whether you need a 60,000 mile service or a quick check up, you can rest assured that at Halfords Autocentres we will meet or exceed Kia's service schedule.
The table below will help you choose a service based on your Kia service intervals. If you need more information to select the right service for your car, see What's Included.
Low to average mileage
| | Interim | Full | Major |
| --- | --- | --- | --- |
| 6 months | | | |
| 12 months | | ✔ | |
| 18 months | | | |
| 24 months | | | ✔ |
High mileage
| | Interim | Full | Major |
| --- | --- | --- | --- |
| 6 months | ✔ | | |
| 12 months | | ✔ | |
| 18 months | ✔ | | |
| 24 months | | | ✔ |
What are Original Equipment-standard parts?
When we say our parts are of Original Equipment standard, we mean they meet exactly the same quality standards as genuine Kia parts. And wherever possible, we will use genuine Kia parts.
Kia service costs
Engine size
Kia models

Interim

Full

Major

<1200
PICANTO, PICANTO GS, PICANTO STRIKE

from

£85

from

£155

from

£219

1200 - 2000
RIO 1, SOUL 2, SPORTAGE XE CRDI

from

£105

from

£175

from

£239

>2000
SPORTAGE XS AUTO, SORENTO, SEDONA SE+ AUTO

from

£135

from

£205

from

£269
At Halfords Autocentres you can choose either an Interim, Full or Major Service.
Our range of service options caters for all cars, no matter their age or condition. And remember, our technicians are trained to tackle any model - from the Kia Sportage to the Picanto.
Check out our helpful table to get an estimate for your car or Book Online now to see Kia service prices that are tailored to your model.
Need a manufacturer's service?
If you'd rather have a service that corresponds exactly to Kia's recommended service schedule, we can help - simply call your local Autocentre for a quote.
In rare instances, a manufacturers' service may be required to ensure your warranty is protected.
Kia MOT and service
We've put together a great range of MOT and service deals. So book your MOT now and save even more on Kia service costs!
Book today
Book your service now and you could save more on official Kia service prices.
Or get a quote for a manufacturer's service by calling 0800 096 4216.
† Based on 4000 customers completing a feedback form every month.
• If you find the same goods or service cheaper within 3 miles of the Autocentre and within 7 days, we will refund the difference.