Jeep Service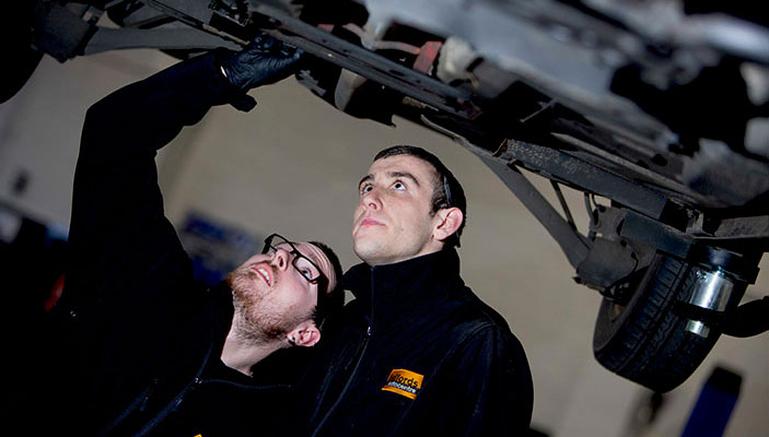 Jeep servicing completed to the highest standard by expert technicians. Book your Jeep's service at any one of our Halfords Autocentres and we'll protect your warranty too!
Jeep servicing for all models
Genuine Jeep or OE equivalent parts used as standard
You won't find lower Jeep servicing costs with our Price Promise•
Protect your Jeep's warranty
Maximise the lifespan and value of your Jeep with a service at your local Halfords Autocentre. Our expert technicians can carry out a Jeep service on any model!
Jeep warranty protection
In 2003, the European Commission introduced Block Exemption Regulation, giving you far greater choice over where you get your car serviced, without having to worry about your car's warranty being affected.
At Halfords Autocentres, all of our Jeep servicing options have been designed to meet or exceed the standards established by the manufacturer. In fact, many of the checks we carry out are more thorough than those completed in a service carried out at a Jeep service centre or dealership.
Our Jeep services
We offer three main options which are designed to cover all Jeep models. You can pick from our Interim, Full and Major levels - we've detailed them in the table below so you can work out which one your vehicle requires.
Low to average mileage
| | Interim | Full | Major |
| --- | --- | --- | --- |
| 6 months | | | |
| 12 months | | ✔ | |
| 18 months | | | |
| 24 months | | | ✔ |
High mileage
| | Interim | Full | Major |
| --- | --- | --- | --- |
| 6 months | ✔ | | |
| 12 months | | ✔ | |
| 18 months | ✔ | | |
| 24 months | | | ✔ |
Still not sure which Jeep service you need? Check out our guide to what's included in a service or give our friendly customer services team a call on 0800 096 4216.
Jeep servicing costs
Our Price Promise• means that you're always guaranteed a great, low price on a Jeep service at your local Halfords Autocentre.
Under our Price Promise, we'll refund the difference if you find a local Jeep service centre or dealership offering the same service you've had completed by us at a lower price within 7 days.
If you'd like a quote specific to your model, enter your registration number when you book your Jeep service online.
Do your technicians use genuine Jeep parts?
In order to protect your vehicle's warranty and maximise its lifespan, we use genuine Jeep parts where possible. Where we can't source genuine parts, we'll use OE (Original Equipment) equivalents. OE parts aren't branded, but they are designed to the same specification as those manufactured by Jeep.
Trained in the latest car servicing techniques, our technicians are committed to delivering quality workmanship every time. Our commitment to quality has seen 9 out of 10 customers say they'd recommend our services to a friend†.
Jeep MOT
When you book a combined Jeep MOT and service at your local Halfords Autocentre, you could save yourself time and money! See our full range of combined MOT and service packages today.
A manufacturer's service
In some rare instances you may be required to have a manufacturer's service that follows the Jeep service schedule to protect your warranty. For more information or to book a manufacturer's service, contact your local Autocentre today.
Book your Jeep service now!
Book your Jeep's service online today!
For a manufacturer's service, call 0800 096 4216 to speak to your local Autocentre.
† Based on 4000 customers completing a feedback form every month.
•If you find the same goods or service cheaper within 3 miles of the Autocentre and within 7 days, we will refund the difference.