Jaguar Service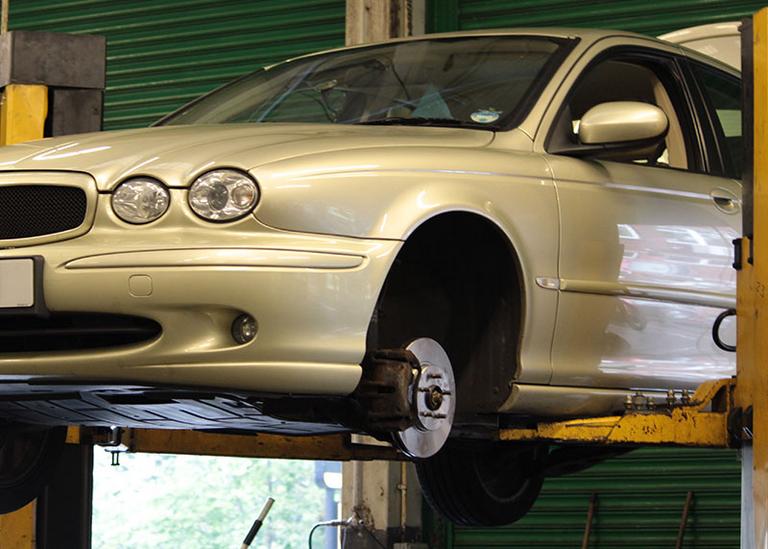 Great money savings, quality OE-standard parts and expert technicians at Halfords Autocentre. Book your Jaguar service now!
Jaguar servicing completed by expert technicians
Protected warranty
Price Promise - find a better price locally and we'll refund the difference
Quality guarantee for 12-months/12,000 miles*
Whichever Jaguar model you drive, at Halfords Autocentres we can service your car, and save you money at the same time!
Book your service online and feel certain that your car is in the best hands. Not only will we save you money, but we use genuine or Original Equipment (OE) parts, all whilst still protecting your vehicle's warranty!
Protect your warranty at Halfords Autocentres
Don't worry about your warranty protection when you come to us for your Jaguar service.
Back in 2003, European Block Exemption Regulations were introduced - meaning you're no longer restricted to having your service done at an official Jaguar service centre.
Visit us at Halfords Autocentres and feel confident that when you leave, all the work we complete won't affect your Jaguar's warranty.
Our servicing options are all designed to meet or exceed an official Jaguar car service. We use genuine or OE-equivalent parts and our technicians are trained to work on all vehicles and models.
Jaguar service options
Here at Halfords Autocentre, we have three service levels for you to choose from - Interim, Full and Major.
Whichever of our services is right for you, you're guaranteed an in-depth and professional service completed by our fully trained technicians.
Visit our What's Included page for more information on our services and the option that will best suit your Jaguar service schedule.
Low to average mileage
| | Interim | Full | Major |
| --- | --- | --- | --- |
| 6 months | | | |
| 12 months | | ✔ | |
| 18 months | | | |
| 24 months | | | ✔ |
High mileage
| | Interim | Full | Major |
| --- | --- | --- | --- |
| 6 months | ✔ | | |
| 12 months | | ✔ | |
| 18 months | ✔ | | |
| 24 months | | | ✔ |
Jaguar service costs
Engine size
Jaguar models

Interim

Full

Major

<1200

-

from

£85

from

£155

from

£219

1200 - 2000
XF LUXURY D AUTO, XF PREMIUM LUXURY D AUTO, X-TYPE, X-TYPE SE D

from

£105

from

£175

from

£239

>2000
S-TYPE V6 SE AUTO, XF LUXURY V6 AUTO, XF PREMIUM LUXURY D V6 A, X-TYPE V6 SE

from

£135

from

£205

from

£269
Book online now and benefit from great prices and quality Jaguar servicing!
On average our Jaguar servicing costs are 21% cheaper than an official Jaguar dealer◊. And, with 300+ Autocentres up and down the country, you're sure to find a Halfords Autocentre near you!
With our Price Promise, if you do happen to find the same service cheaper elsewhere then we'll always refund the difference.•
Take a look at the table opposite for an outline of Jaguar servicing prices.
Quality Guarantee
It's important to us that you feel at ease leaving your car with us, that's why we'll always explain all the work your car needs and quote upfront.
Our quality guarantee means that for 12-months or 12,000 miles%, whichever is sooner, all the work we complete on your vehicle is covered - so when you leave us you can feel just as confident as when you arrived.
OE-standard parts
We always use genuine or Original Equipment (OE) equivalent parts. In those instances when genuine parts aren't available, you needn't worry as OE-equivalent parts are manufactured in exactly the same way and to the same standard as official Jaguar parts, they just aren't branded.
Manufacturer's service
In some cases, you may require a manufacturer's service in order for your warranty to remain protected. For more information on this and to get a quote, give your local Autocentre a call!
Service and MOT deals
Is your MOT due soon? If so, save more with our MOT and service deals!
Book your Jaguar service now!
Book your Jaguar service at your local Halfords Autocentre online now!
To book a manufacturer's service select your local Autocentre when you call 0800 096 4216.
* Guarantee valid on parts and labour for 12 months or 12,000 miles, whichever is soonest. Excludes rental cars, private hire vehicles and taxis.
• If you find the same goods or service cheaper within 3 miles of the autocentre and within 7 days, we will refund the difference.
◊ Based on independent telephone research of 4 Jaguar dealerships across Great Britain, comparing our in-centre price list against the price quoted for a full car service at the dealership, research carried out in February 2014.