Isuzu Service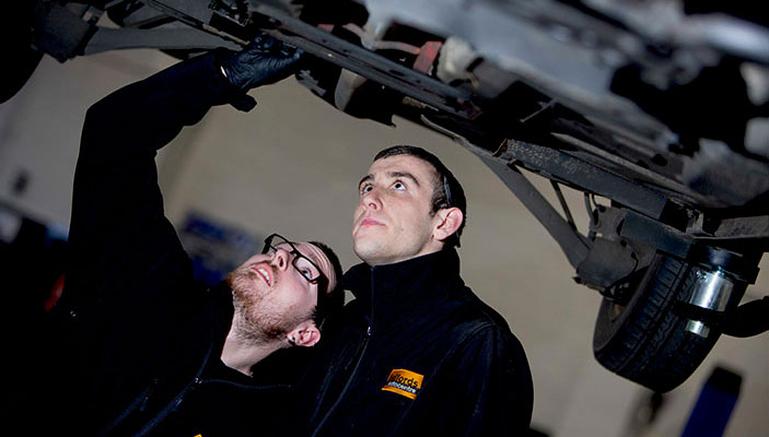 Our expert technicians perform Isuzu servicing that protects your warranty. We use genuine manufacturer or OE parts. Book an Isuzu service with us now!
Isuzu servicing carried out by experienced professionals
We'll protect your car's warranty
From the Trooper to the Yukon - we service all Isuzu models
All parts/work guaranteed for 12,000 miles or 12-months
Whether you need a service for an Isuzu TF Rodeo, an early Bighorn or a new Eiger, our trained technicians can help. Regardless of your car's age or condition, book your Isuzu service at any one of our Halfords Autocentres today!
Warranty protection
When you bring your Isuzu to your local Halfords Autocentre for a service, you don't have to worry about its warranty. 2003 Europen Block Exemption Regulation means our technicians can carry out vehicle servicing without your car's warranty being affected.
Our Isuzu service options
We offer three menu services, pick from our full Interim, Full or Major servicing options - it doesn't matter which model you own, we have a service to meet your needs.
To see a full list of the checks we carry out, view our What's Included page.
Low to average mileage
| | Interim | Full | Major |
| --- | --- | --- | --- |
| 6 months | | | |
| 12 months | | ✔ | |
| 18 months | | | |
| 24 months | | | ✔ |
High mileage
| | Interim | Full | Major |
| --- | --- | --- | --- |
| 6 months | ✔ | | |
| 12 months | | ✔ | |
| 18 months | ✔ | | |
| 24 months | | | ✔ |
Isuzu servicing - completed to the highest standard
At Halfords Autocentres, we take great pride in delivering excellent car servicing. We believe in going the extra mile, in fact many of the checks we carry out in our Isuzu servicing are more detailed than those completed by an Isuzu service centre or dealership. To keep your car's engine running smoothly, we also only ever use high quality Castrol Oil.
We're confident that we meet these high standards on every Isuzu service - that's why when you drive away you're covered by our 12-month/12,000 mile guarantee on all parts we've used and all work we've completed!
The cost of an Isuzu car service
Our Isuzu servicing starts from just £99. Enter your car's registration when you book online to get a quote for your model.
With our Price Promise• you're guaranteed the lowest local price on your service. If you find a local Isuzu service centre or garage offering the same service our technicians have completed within 7 days, contact us and we'll refund the difference.
Do you use branded Isuzu parts?
Yes, where possible our technicians will use parts produced by Isuzu. However, if this isn't possible, we'll use parts that are OE (Original Equipment) equivalents. The only difference between OE parts and genuine manufacturer parts is the branding. OE parts are still built to manufacturer specification and are of the same high quality.
Manufacturer's service
All of our Isuzu car service options are designed to meet or exceed the standards established by the manufacturer. However, on rare occasions, a manufacturer's service that follows the Isuzu service schedule may be necessary in order to protect your car's warranty.
If you require a manufacturer's service, contact your local Halfords Autocentre today.
Isuzu MOT
Book a combined Isuzu MOT and service and save even more. See our latest MOT and servicing packages.
Book your Isuzu car service today
Book your Isuzu car service online now!
To book an Isuzu manufacturer's service, call 0800 096 4216 to speak to your local Autocentre.
•If you find the same goods or service cheaper within 3 miles of the Autocentre and within 7 days, we will refund the difference.