Fiat Service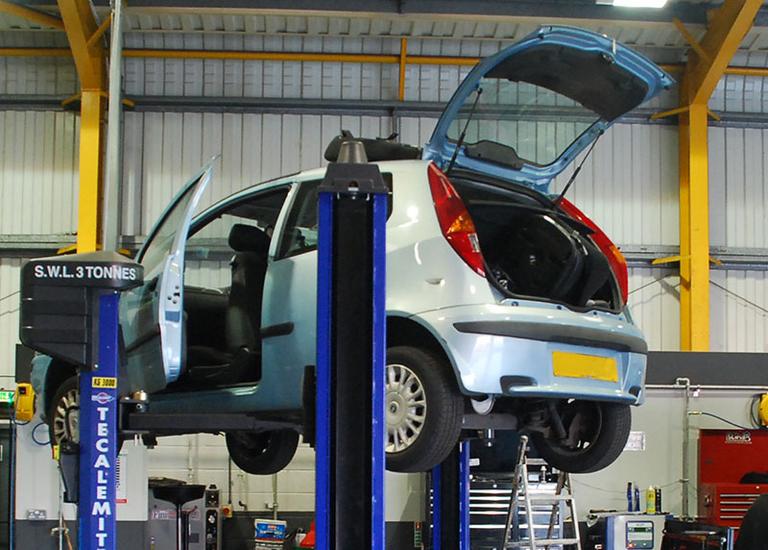 Protect your warranty and enjoy big savings on Fiat servicing costs at Halfords Autocentres.
Fiat servicing that ensures your warranty remains valid
We're 33% cheaper than Fiat main dealers!*
We use genuine or OE-standard parts
All work is protected by our Price Promise and Quality Guarantee
Protect your warranty and enjoy big savings on Fiat servicing costs at Halfords Autocentres. Our customers save an average of 33%* and receive quality, comprehensive servicing that's guaranteed for 12 months or 12,000 miles!
Book today and discover why 9 out of 10 customers say they'd recommend us!†
Fiat servicing that protects your warranty
Gone are the days when you'd have to visit a Fiat-approved service centre to protect your warranty. Since European Block Exemption Regulation was introduced in 2003, Halfords Autocentres has been free to offer quality Fiat servicing that keeps your warranty valid.
This is because our service options are designed to meet or exceed Fiat's standards, and our technicians only use Original Equipment-standard parts, or genuine parts where available.
Choosing the right service
Whether you drive a Fiat 500, Punto or Panda, you can benefit from our high-quality servicing and warranty protection. Our technicians are trained to service and repair any make or model of car.
To choose a car service that meets or exceeds Fiat's recommendations, refer to the table below. For more information see What's Included.
Low to average mileage
| | Interim | Full | Major |
| --- | --- | --- | --- |
| 6 months | | | |
| 12 months | | ✔ | |
| 18 months | | | |
| 24 months | | | ✔ |
High mileage
| | Interim | Full | Major |
| --- | --- | --- | --- |
| 6 months | ✔ | | |
| 12 months | | ✔ | |
| 18 months | ✔ | | |
| 24 months | | | ✔ |
Fiat service costs
Engine size
Fiat models

Interim

Full

Major

<1200
500 C LOUNGE, 500 POP, 500 SPORT, PUNTO ACTIVE, PANDA ACTIVE ECO

from

£85

from

£155

from

£219

1200 - 2000
BRAVO ACTIVE 90, DOBLO CARGO MULTIJET 8V, PANDA 100HP

from

£105

from

£175

from

£239

>2200
DUCATO 40 MAXI 130 M-JET, STILO, DOBLO

from

£135

from

£205

from

£269
You can choose from three service levels - Interim, Full and Major.
This simple pricing structure lets you select the best Fiat car service for your circumstances, without ever paying more than you have to.
This quick table gives typical prices for various Fiat models. Book Online now to see Fiat service prices that are tailored to your car.
On average, you'll pay 33% less than you would at an official Fiat service centre!*
Genuine parts
You can always trust the quality of the parts we use. Our technicians strictly use genuine Fiat parts (where available), or Original Equipment-quality parts, which are manufactured to the same exacting standards demanded by Fiat.
Manufacturer's service
Our menu services are designed to meet or exceed manufacturers' recommendations. But very occasionally, a manufacturer's service may be necessary to guarantee warranty protection. Call your local Autocentre to get a quote and book an appointment.
Price and quality guarantees
We want you to drive away from your local Autocentre feeling completely satisfied with the service you've received and the savings you made.
That's why we offer our Price Promise and Quality Guarantee:
Our Price Promise ensures you never pay anything but the best prices - if you find a better price for the same service locally, we'll refund the difference!•
Our Quality Guarantee is valid on all work and parts for 12,000 miles or 12 months, whichever is soonest.◊
Add an MOT
Want to save even more? Book your Fiat MOT and car service together! We have MOT and service deals for all three service levels.
Book your service
Book Fiat car servicing now - choosing a convenient time slot is simple using our online booking system.
To get a quote for a manufacturer's service, call 0800 096 4216.
† Based on 4000 customers completing a feedback form every month.
* Based on independent telephone research of 15 Fiat dealerships across Great Britain, comparing our in-centre price list against the price quoted for a full car service at the dealership, research carried out in February 2014.
• If you find the same goods or service cheaper within 3 miles of the Autocentre and within 7 days, we will refund the difference.
◊ Excludes rental cars, private hire vehicles and taxis.