Daihatsu Service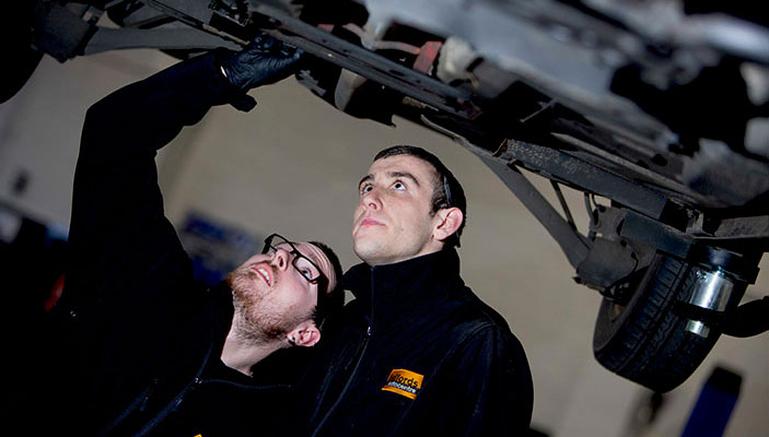 Professional Daihatsu service at Halfords Autocentre. High-quality parts and equipment with a price guarantee. Book online now!
Daihatsu service that protects your warranty
Quality Guarantee* and Price Promise•
Genuine or Original Equipment-equivalent parts used - always
No technical jargon
Take advantage of great cash savings and knowledgeable workmanship with your Daihatsu car service at Halfords Autocentre!
Our prices may be the lowest in your local area, but this doesn't mean the quality of our work is any less. Whether you drive the Sirion, the Terios or the Cuore, all our technicians are expertly trained to work on all Daihatsu models.
Keep your warranty protected
You can visit Halfords Autocentre without your Daihatsu's warranty being affected. Our car services always aim to meet or exceed an official Daihatsu service, and the parts we use are either genuine or OE-equivalent parts - meaning you're not only getting a professional service, but also the parts to match.
Why will your warranty remain protected when you visit Halfords Autocentre? Because of Block Exemption Regulations, these regulations, introduced in 2003, mean you don't have to have your car serviced at an official Daihatsu service centre in order for your warranty to remain valid.
This is great news for you, because you can now visit your local Halfords Autocentre and get great value for your money and personalised and professional service!
The Daihatsu service options
We offer a range of service options so you can leave our service centre with a problem-free Daihatsu vehicle that has been serviced depending on your personal driving needs.
Take a look at our service levels below, and choose from Interim, Full and Major. The different options each cover and check a variety of different areas on your Daihatsu vehicle.
If you need some more information, go to our What's Included page or call our customer service team on 0800 096 4216.
Low to average mileage
| | Interim | Full | Major |
| --- | --- | --- | --- |
| 6 months | | | |
| 12 months | | ✔ | |
| 18 months | | | |
| 24 months | | | ✔ |
High mileage
| | Interim | Full | Major |
| --- | --- | --- | --- |
| 6 months | ✔ | | |
| 12 months | | ✔ | |
| 18 months | ✔ | | |
| 24 months | | | ✔ |
Daihatsu service costs
Engine size
Daihatsu models

Interim

Full

Major

<1200
COPEN, SIRION SE

from

£85

from

£155

from

£219

1200 - 2000

-

from

£105

from

£175

from

£239

>2000
FOURTRAK FIELDMAN TDS

from

£135

from

£205

from

£269
For quality and great costs visit Halfords Autocentre.
We can guarantee that you won't find your Daihatsu car service at a better price in the local area• - so there's no reason not to visit us.
You'll find our simple price guide opposite, but if you want a more personalised quote book online now, and we'll formulate a service price that is tailored to your car.
Genuine Parts
We want you to experience quality when you visit Halfords Autocentres. This is why we aim to use genuine parts in the work we do, but there are times when these parts aren't available. When this is the case, we always use OE (Original Equipment) standard parts - so your car is still equipped with only the best parts.
OE-standard parts are manufactured and built in exactly the same way as a genuine Daihatsu car part is. The only difference between them is that OE-standard parts are not branded with the Daihatsu logo!
Require a manufacturer's service?
If in order to keep your warranty protected you require a manufacturer's service, call your local Autocentre and we'll provide a quote for a service that will follow Daihatsu's service schedule exactly.
Daihatsu MOT
Get your MOT done at the same time as your Daihatsu service and save money! Take a look at our MOT and service deals for more information.
Book Now
Book your quality Daihatsu service today!
You can also book a manufacturer's service by speaking to your local Autocentre, call now on 0800 096 4216.
* Guarantee valid on parts and labour for 12 months or 12,000 miles, whichever is soonest. Excludes rental cars, private hire vehicles and taxis.
• If you find the same goods or service cheaper within 3 miles of the autocentre and within 7 days, we will refund the difference.