Chevrolet Service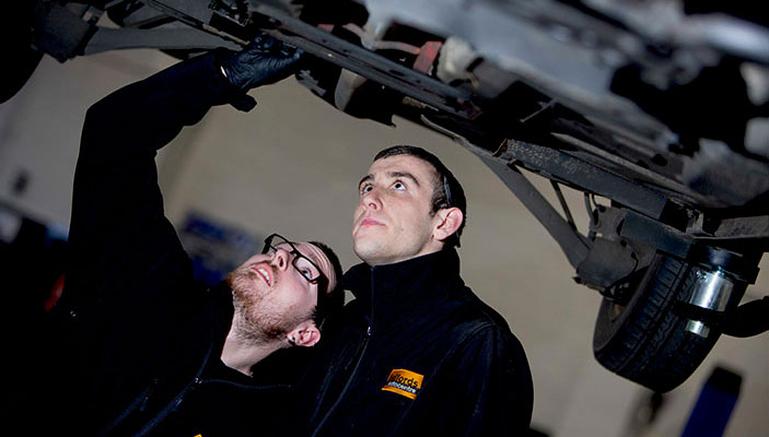 Our Chevrolet servicing exceeds or meets manufacturer-set standards. And with our Price Promise you won't find a cheaper Chevrolet car service. Book today.
Chevrolet servicing that exceeds or matches the manufacturer's recommendations
Get a stamp in your Chevrolet service book and protect your warranty
All parts and work guaranteed for 12 months or 12,000 miles
Service completed with genuine Chevrolet or Original Equipment (OE)-standard parts
With a Halfords Autocentre service, all work is completed to a high-quality standard. Our work and parts are protected for 12-months or 12,000 miles.
Our experts service all Chevrolet models - from the Spark to classic Camaros. Find out why 9 out of 10 of our customers would recommend us to a friend*, book now!
Protect your Chevrolet warranty
Thanks to 2003 European Block Exemption Legislation, Halfords Autocentres can provide Chevrolet servicing that protects your warranty.
All the parts our technicians use are either produced by the manufacturer or are the equivalent Original Equipment (OE) parts. OE parts aren't produced by the manufacturer but they're of the same specification.
Our Chevrolet service options
Here at Halfords Autocentres we offer three tiers of service options, starting from just £85. Our Interim Service, Full Service and Major Service have all been created to meet or exceed Chevrolet's service schedules.
Not sure about which of our Chevrolet service options is right for your vehicle? View the table below to help you decide.
Find out more about what's included in each of our Chevrolet servicing options by visiting our guide to what's included in a service.
Low to average mileage
| | Interim | Full | Major |
| --- | --- | --- | --- |
| 6 months | | | |
| 12 months | | ✔ | |
| 18 months | | | |
| 24 months | | | ✔ |
High mileage
| | Interim | Full | Major |
| --- | --- | --- | --- |
| 6 months | ✔ | | |
| 12 months | | ✔ | |
| 18 months | ✔ | | |
| 24 months | | | ✔ |
Price Promise
Engine size
Chevrolet models

Interim

Full

Major

<1300
AVEO LS, AVEO S, KALOS S

from

£85

from

£155

from

£219

1300 - 2200
AVEO LT, KALOS SX, ORLANDO

from

£105

from

£175

from

£239

>2200
TACUMA

from

£135

from

£205

from

£269
Our Price Promise ensures that if you find a local Chevrolet service centre, dealer or garage offering the same service we've completed for you within 7 days, we'll refund you the difference! • You won't find a better price.
Our Chevrolet service prices start from just £85 for an Interim Service. Use our table to help you work out the expected cost for your vehicle.
Get a quote tailored to your Chevrolet model today - simply enter your car's registration number using our online booking system.
Chevrolet parts or OE equivalents - as standard
In order to protect your vehicle's warranty and its health, where we can we'll always use parts produced by the manufacturer.
Where parts produced by Chevrolet aren't available, our technicians will use OE parts instead. They're of the same quality standard as Chevrolet-branded parts, and your warranty will still be protected.
We're committed to workmanship of the highest standard. This means that all of the work we do and the parts we use are also guaranteed for 12-months or 12,000 miles - whichever's soonest.
Manufacturer's service
Although each of our service options is designed to meet or exceed the standards set by the manufacturers, there are a few instances in which you may be required to have a service that follows the manufacturer's service plan exactly to protect your warranty.
Our technicians are able to provide a manufacturer's service that meets the exact standards set out in Chevrolet's service schedule. Call your local Autocentre on 0800 096 4216 to get a quote or book a manufacturer's service.
Chevrolet MOT
Is your car due an MOT? You could save even more with our range of Chevrolet MOT and service offers.
Book Now
With our online booking system, you can arrange a Chevrolet car service at a time that suits you. Book a service online at your local Autocentre today!
You can also book a manufacturer's service by calling 0800 096 4216
* Based on 4000 customers completing a feedback form every month.
• If you find the same goods or service cheaper within 3 miles of the autocentre and within 7 days, we will refund the difference.