Cadillac Service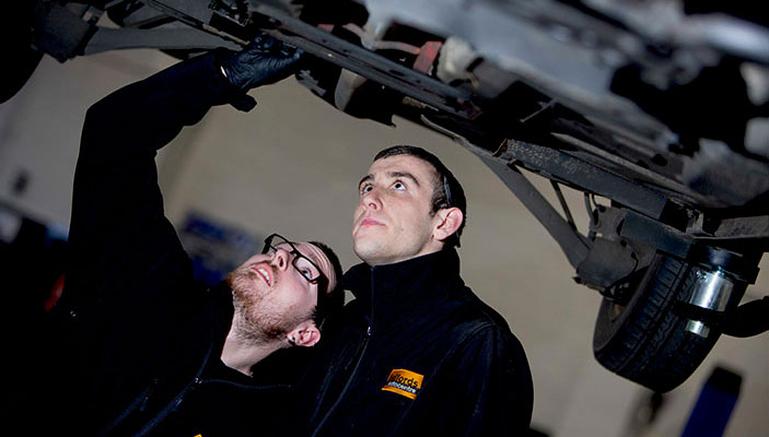 A Cadillac car service completed with genuine manufacturer or OE-equivalent parts. Protect your vehicle's warranty and book a Cadillac service with us now.
A service for any Cadillac model
Cadillac or OE (Original Equipment) equivalent parts used as standard
Never pay more than you should with our Price Promise
Warranty protected
It doesn't matter whether you drive an Escalade or a CTS - at Halfords Autocentres, if it's time for your Cadillac's service, MOT or you need car repairs, our technicians are trained to work on all models.
With our Cadillac servicing, your warranty is protected. And with 300+ Autocentres, we can often get you booked in much quicker!
Cadillac car service - warranty protection
Thanks to 2003 Block Exemption Regulations, we're able to offer Cadillac servicing that doesn't compromise your vehicle's warranty. So, with this, you can feel confident your warranty will always be protected when you opt for one of our Cadillac service options.
Quality is at the core of everything we do at Halfords Autocentres. With each service we carry out, our technicians, where possible, will use genuine manufacturer parts. If these parts are unavailable we'll always use OE (Original Equipment) equivalent parts.
Our Cadillac service options
We offer three fixed-price service options. Each one is designed to help keep your Cadillac in the best working condition. With our Interim Service, Full Service and Major Service you'll find that we meet or exceed the Cadillac service schedule, meaning your car is in safe hands!
Unsure of which servicing option you need? Use our helpful guide below to work out which service you require. To get a full breakdown of the points checked in our car services, see What's Included.
Low to average mileage
| | Interim | Full | Major |
| --- | --- | --- | --- |
| 6 months | | | |
| 12 months | | ✔ | |
| 18 months | | | |
| 24 months | | | ✔ |
High mileage
| | Interim | Full | Major |
| --- | --- | --- | --- |
| 6 months | ✔ | | |
| 12 months | | ✔ | |
| 18 months | ✔ | | |
| 24 months | | | ✔ |
Halfords Autocentres Price Promise
As well as being confident in the quality of our work, we're also confident you won't find a better deal on a Cadillac car service from another local service centre. If you do find the same service, we'll refund the difference - it's as easy as that. •
If you'd like a quote tailored to your model, simply submit your vehicle's registration when you book online.
Expert Cadillac car servicing with manufacturer-standard parts
All of our technicians are trained and experienced in working with all car makes and models. This means that when you book a Cadillac service at your local Autocentre, all work is carried out by experts.
With our commitment to quality workmanship, our services will often be more comprehensive than those carried out at a Cadillac service centre. 9 out of 10 customers say they'd recommend our services to a friend.†
Our commitment to quality is also reflected in the parts we use. Where available, we'll use genuine manufacturer parts. However, if unavailable we'll use Original Equipment (OE) parts. These parts have not been manufactured by the company but are often the same parts used by Cadillac themselves.
A manufacturer's service
Each of our menu services is designed to meet or exceed the standards set by Cadillac.
However, in some instances you may be required to have a service that meets the exact Cadillac service schedule to ensure your vehicle's warranty remains protected.
Call your local Autocentre on 0800 096 4216 for more information.
Cadillac MOT
Save more by booking your Cadillac MOT at the same time as your car's service. See our fantastic MOT and service packages today.
Book Now
Book your Cadillac car service online today and save more. If your vehicle needs a manufacturer's service, contact your local Halfords Autocentre to get a quote by calling 0800 096 4216.
† Based on 4000 customers completing a feedback form every month.
• If you find the same goods or service cheaper within 3 miles of the autocentre and within 7 days, we will refund the difference.