Bentley Service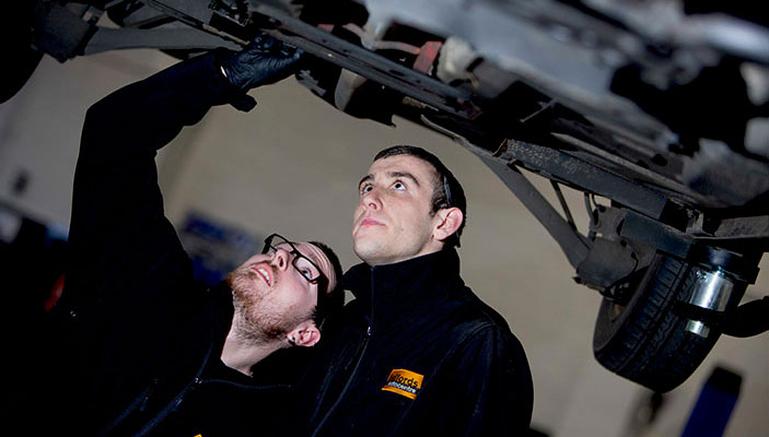 At Halfords Autocentres we carry out Bentley servicing to the highest standards using genuine or Original Equipment (OE) parts.
We offer Bentley servicing for all models
A Bentley car service that won't invalidate your warranty
OE (Original Equipment) parts used as standard
Never pay more than you should with our Price Promise•!
Book a Bentley service at one of our 300 Autocentres online today and find out why 9 out of 10 customers say they would recommend us to a friend.†
Warranty protection
Introduced back in 2003, Block Exemption Regulation enables our technicians to carry out Bentley servicing that doesn't impact your car's warranty. It doesn't matter which of our three service levels you opt for, they're all designed to meet or exceed the standards set by Bentley.
Which Bentley car service do I need?
Do you require a Bentley Continental GT service or a service on a classic Corniche? You can choose from Interim, Full or Major - they cover all models. Use our service guide to help you work out which one is appropriate for your car, or see our guide to what's included in a service for a full list of checks carried out in each service level.
Low to average mileage
| | Interim | Full | Major |
| --- | --- | --- | --- |
| 6 months | | | |
| 12 months | | ✔ | |
| 18 months | | | |
| 24 months | | | ✔ |
High mileage
| | Interim | Full | Major |
| --- | --- | --- | --- |
| 6 months | ✔ | | |
| 12 months | | ✔ | |
| 18 months | ✔ | | |
| 24 months | | | ✔ |
If you're still not sure which of our service options your vehicle requires, why not contact our friendly team today on 0800 096 4216.
Do your technicians use genuine Bentley parts?
We use genuine manufacturer parts where possible when carrying out Bentley servicing. However, if they're not available we'll use OE (Original Equipment) equivalent parts instead. OE parts are made to the same specification as those built by Bentley and are of the same high quality.
Our commitment to quality
The work we carry out in all Bentley servicing is completed to an excellent standard. We've designed our services to meet or exceed the standards established by the manufacturer. We're committed to going the extra mile and many of the checks our technicians carry out are more detailed than those carried out at a Bentley service centre.
We also use high grade products - such as Castrol oil - genuine manufacturer or OE (Original Equipment) parts, the latest servicing techniques and cutting-edge equipment to deliver a service that's of the highest quality.
Bentley service costs
With our Price Promise• you won't find a lower Bentley service price locally. If you find a local Bentley service centre offering a service you've had completed by us at a lower price within 7 days, contact us and we'll refund the difference.
Our technicians always quote upfront too. You don't have to worry about hidden costs when you come to collect your car after a service - you'll know the cost of any required repairs before we carry out any work.
Enter your registration when booking online to get a quote today.
Bentley MOT
You can book a combined Bentley MOT and service and save even more. View our current combined MOT and service deals.
A manufacturer's service
A manufacturer's service isn't required the majority of the time. However, in some rare instances you may require a service that follows the Bentley service schedule in order to protect your warranty. Contact your local Autocentre today for more information on a manufacturer's service.
Book today
Maximise your car's lifespan and value with a Bentley car service - book online today!
If you'd like to book a manufacturer's service call 0800 096 4216 to speak to your local Autocentre.
† Based on 4000 customers completing a feedback form every month.
•If you find the same goods or service cheaper within 3 miles of the Autocentre and within 7 days, we will refund the difference.