Aston Martin Service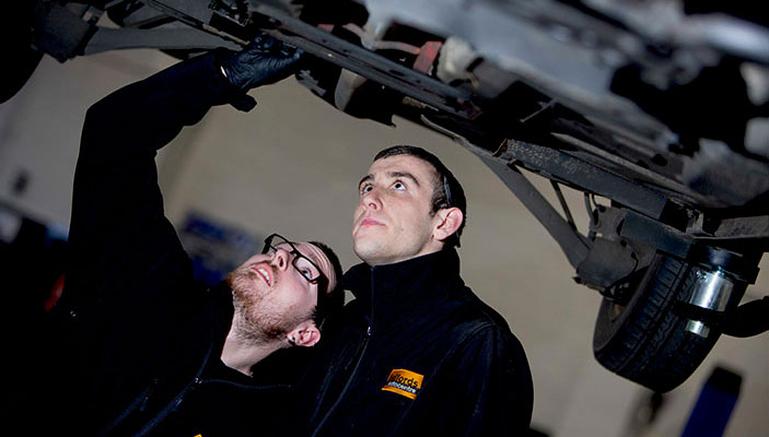 Expert Aston Martin servicing at Halfords Autocentre. Keep your warranty protected and your Aston Martin in top condition. Book online now!
Professional Aston Martin servicing
Warranty protection on all service options
Quality guarantee in all 300+ autocentres*
Always receive the lowest price locally•
Look after your Aston Martin with a service from Halfords Autocentres. Our highly trained technicians only ever use top quality parts.
You can feel at ease leaving your car with us - we only use genuine Aston Martin or Original Equipment (OE) parts, and we always make sure you understand the work your car needs without any technical jargon.
Protect your Aston Martin warranty
The introduction of European Block Exemption Regulation means you can now have your car serviced at any one of our 300+ Autocentres.
Our Aston Martin service options all aim to meet or exceed an official service conducted at an Aston Martin service centre. We do this by using either genuine Aston Martin or OE-equivalent parts - meaning you're getting quality parts and service, all of which are guaranteed for 12-months or 12,000 miles, whichever is soonest.*
Aston Martin service options
We offer three service levels, this allows you to choose the right service option based on your car's servicing history. Take a look at the table below that briefly outlines our service options - Interim, Full and Major.
For more information on our service options, visit our What's Included page or call our customer service team on 0800 096 4216.
Low to average mileage
| | Interim | Full | Major |
| --- | --- | --- | --- |
| 6 months | | | |
| 12 months | | ✔ | |
| 18 months | | | |
| 24 months | | | ✔ |
High mileage
| | Interim | Full | Major |
| --- | --- | --- | --- |
| 6 months | ✔ | | |
| 12 months | | ✔ | |
| 18 months | ✔ | | |
| 24 months | | | ✔ |
Aston Martin servicing costs
You're always guaranteed the lowest price at Halfords Autocentre. How do we know this? Because if you find the same service cheaper elsewhere, we'll always refund the difference. •
If you'd like a quote based on your specific model then simply enter your registration number when you book your Aston Martin service online.
Genuine parts
Drive away from your local Halfords Autocentre safe in the knowledge that your vehicle has been fitted with only the best parts.
Where possible we'll always aim to use genuine Aston Martin or OE-equivalent parts for any work we complete on your car.
Manufacturer's service
In addition to our three service options, we can also complete a manufacturer's service. On rare occasions, a manufacturer's service may be required in order for your warranty to remain protected. For more information and to get a quote, give your local Autocentre a call.
Aston Martin MOT due soon?
Booking your Aston Martin MOT and service at the same time could save you both time and money. Check out our MOT and service deals today.
Book your service now
If you need a manufacturer's service, call 0800 096 4216 for more information.
* Guarantee valid on parts and labour for 12 months or 12,000 miles, whichever is soonest. Excludes rental cars, private hire vehicles and taxis.
• If you find the same goods or service cheaper within 3 miles of the Autocentre and within 7 days, we will refund the difference. See our terms and conditions for full details.