Alfa Romeo Service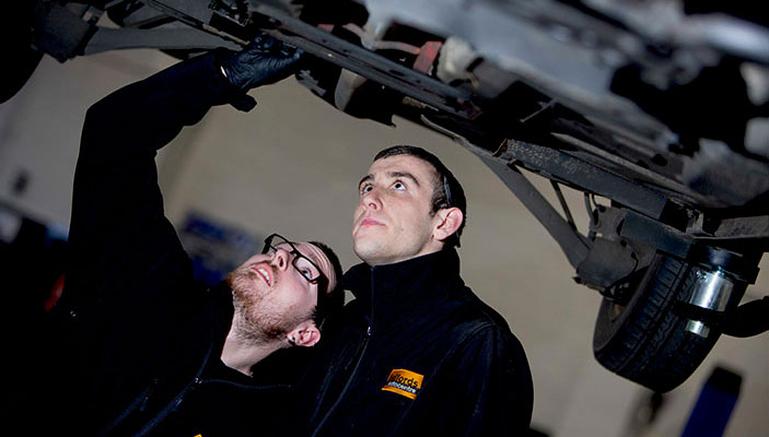 Book Alfa Romeo servicing online and save money. Get quality car maintenance that meets or exceeds Alfa Romeo's service schedule and protects your warranty.
Big savings on Alfa Romeo servicing costs
Your warranty is protected by law
Manufacturer-standard parts and trained technicians
9 out of 10 customers would recommend us!*
Enjoy huge cost savings when you book an Alfa Romeo car service with Halfords Autocentres.
Whether you drive a 147, 169, Meteo, or any other Alfa Romeo model, you can rest assured we'll keep your car running perfectly - and protect your warranty too!
Warranty protection
In 2003, the EU introduced Block Exemption Regulations, giving drivers more freedom to choose where they get their car serviced.
Thanks to these regulations, Halfords Autocentres can carry out Alfa Romeo servicing that meets or exceeds official service recommendations.
Our technicians only use official Alfa Romeo parts or Original Equipment-standard parts, this ensures your warranty is protected.
Can I expect quality parts?
When you visit Halfords Autocentres, you can rest assured that you're getting the same quality of service that you'd get at an official Alfa Romeo service centre. In fact, in many cases we go above and beyond manufacturers' recommendations - without the extra costs and extended waiting lists you often encounter at official dealerships.
As part of our commitment to quality, we use genuine Alfa Romeo parts wherever possible. If these aren't available, we'll use Original Equipment-standard parts instead. These OE parts are manufactured to meet the quality standards demanded by the car manufacturer.
How much does an Alfa Romeo service cost?
We're committed to offering great prices on Alfa Romeo servicing. That's why we promise you won't find the same service at a better price locally. If you do, we'll give you the difference back!•
We offer three service levels to suit Alfa Romeo models of any age and condition. We've put together this table to help you choose the service option that's right for your Alfa Romeo.
If you need help choosing the right service check out our guide to what's included in a service.
Low to average mileage
| | Interim | Full | Major |
| --- | --- | --- | --- |
| 6 months | | | |
| 12 months | | ✔ | |
| 18 months | | | |
| 24 months | | | ✔ |
High mileage
| | Interim | Full | Major |
| --- | --- | --- | --- |
| 6 months | ✔ | | |
| 12 months | | ✔ | |
| 18 months | ✔ | | |
| 24 months | | | ✔ |
Alfa Romeo service prices
Engine size
Alfa Romeo models

Interim

Full

Major

<1200

-

from

£85

from

£155

from

£219

1200 - 2000
147 T SPARK LUSSO, GIULIETTA VELOCE JTDM-2, MITO LUSSO

from

£105

from

£175

from

£239

>2000
156 JTD LUSSO 20V M-JET

from

£135

from

£205

from

£269
Choose from any of our three service levels, options include an Interim, Full or Major Service.
Our pricing structure is designed to help you select the best Alfa Romeo car service for your circumstances.
The adjacent table gives typical prices for various Alfa Romeo models.
Book Online now to see service prices that are tailored to your Alfa Romeo.
Quality and prices guaranteed!
When we make promises, we keep them. Thanks to our Price Promise you'll never pay more than you have to. And for complete peace of mind, we offer a 12,000 mile / 12-month guarantee that's valid in all 300+ Autocentres nationwide. This applies to all work we do, from comprehensive Alfa Romeo repairs and servicing to changing a spark plug or balancing a tyre.
Manufacturer's service
As well as our menu services, we can provide a manufacturer's service - in other words, servicing that follows Alfa Romeo's service recommendations exactly. In very rare cases, you may need to book a manufacturer's service to keep your warranty valid. To get a quote, contact your local Halfords Autocentre.
Need an MOT?
Take a look at our combined MOT and service offers to save even more.
Book your service now
With our easy online booking system, it's quick and easy to book your Alfa Romeo's service - choose from more than 300 Autocentres across the UK.
For a manufacturer's service, call 0800 096 4216.
* Based on 4000 customers completing a feedback form every month.
• If you find the same goods or service cheaper within 3 miles of the autocentre and within 7 days, we will refund the difference.