July 2015 | Halfords to reach 760 apprentices by March 2016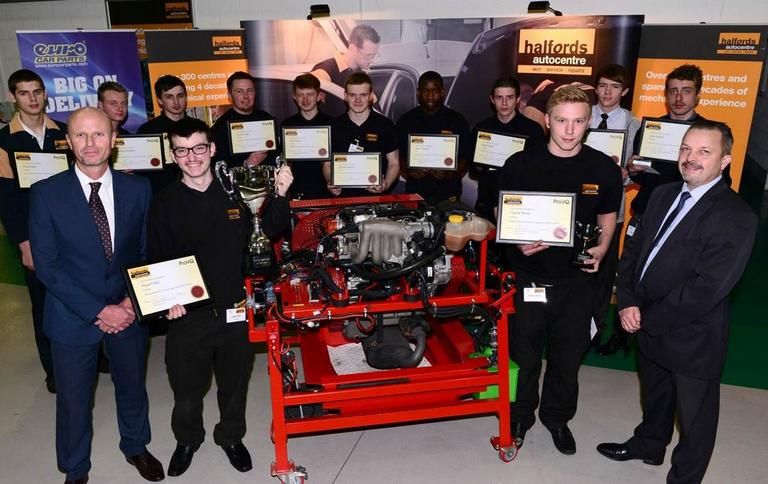 Halfords today announces it will have a total of 760 apprentices by the end of its financial year.
HALFORDS TO REACH 760 APPRENTICES BY MARCH 2016
HALFORDS today announces it will have a total of 760 apprentices by the end of its financial year. The figure takes into account apprentices across the entire Halfords Group - Halfords Retail Stores and Halfords Autocentres. The news follows Monday's announcement by the Department for Business that apprenticeships will be given protected legal status under a new law to be introduced this year.
The news comes as Halfords Autocentres commits to 100 new apprentices across its 304 sites by March 2016, taking its total number to 260. It also follows the launch of Halfords' new retail traineeship employment scheme in February, which committed to 500 new apprentices across its retail stores over the 12 months to follow.
Halfords Autocentres has also announced its goal to have one apprentice in every centre by 2017. With a 20 year heritage, Halfords Autocentre apprenticeships have an 80% success rate for the completion of the three year scheme. The apprentices qualify with an NVQ Level 3 Standard combining learning with practical, on-the-job training. Elijah Sumner, aged 19, from Cardiff is one success story, as the 2013 and 2014 Halfords Apprentice of the Year has progressed to the final of the WorldSkills Competition being held in Brazil in August this year.
The Apprenticeship scheme across Halfords Retail Stores was launched by George Osborne earlier in the year and is open to people who are currently unemployed, long-term unemployed and NEETs*. The traineeship pre-employment scheme which equips candidates with four qualifications, follows a successful pilot with a 62% success rate of candidates going on to secure jobs in store.
The boost to apprenticeships is revealed as Halfords also announces live vacancies across retail, with 250 live permanent vacancies including 40 support centre roles and 20 across retail management.
Halfords' People Director Jonathan Crookall said: "We're really proud of our commitment to apprenticeship schemes across both Halfords Autocentres and Retail Stores. We look forward to continuing to drive our traineeship employment programme across retail, as well as taking on 100 more apprentices across Autocentres.
"We're committed to developing young talent and helping our colleagues learn skills for a lasting career. We couldn't be more pleased about the Department for Business' announcement this week, giving apprenticeships the recognition they deserve."
Halfords has 11,000 employees and was named number 18 in the Sunday Times Best Places to Work Survey 2015.
To find out more about apprenticeships in Halfords Autocentres or Halfords stores, visit www.halfordscareers.com or www.apprenticeshipfinder.co.uk
*Not in education, employment or training