How To Pack Your Car Safely
Packing a lotinto a small space can be a challenge so here's some top tips to maximisespace as well as safety.
Christmas is a time when you might find yourself carrying a lot of extra baggage in your car; whether it's the Christmas tree, presents for all the family or a lovingly prepared trifle for a friend's dinner party. Packing a lot into a small space can be a challenge so here's some top tips to maximise space as well as safety.
Keep it secure
Items sliding around or tipping over whenever you brake or turn will be irritating at best and dangerously distracting at worst. A box, bag or plant may be better wedged into a rear foot-well rather than left sliding around in an otherwise empty boot.
Box it up
Consider using a boot tidy, luggage net or even empty boxes in the boot to stop smaller loads sliding around - or shopping bags spilling at the first corner. Also, think about how you will get to the spare wheel or puncture repair kit in an emergency. Packing things into bags or boxes, rather than throwing items in loose will make it much easier to access if you need to do so in an emergency.
Watch out for flying objects
Keep the parcel shelf clear. Loose items will fly forwards if you have to brake harshly or in the event of a crash. This could not only damage the item but also seriously injure someone in the car.
Visibility
Try to keep a clear view to the rear by not packing above the line of the seat backs. Anything packed higher than this is at risk of flying forwards in a crash anyway.
Don't step on it
Keep the front foot-wells clear. Loose items rolling about on the floor are distracting and very dangerous if under the driver's feet or pedals.
Stay low
Keep larger/heavier items low down. It makes packing easier if you put bigger packages in first and then pack smaller items around. If possible, push heavy items tight up against the back of the rear seat. This will reduce the risk of them bursting through in a crash and helps to keep the centre of gravity low, giving better weight distribution and handling.
Give passengers space
If you have to fold seats to get a large or awkward load in the car then leave passengers and collect them later rather than risk carrying them unrestrained. If travelling with children, leave plenty of room as packing items in tight around them is likely to make for an unhappy journey and an irrational child is another distraction for the driver.
Up on top
Roof-bars and roof-boxes are a great way of carrying very large or awkward items. Check the handbook to make sure you don't exceed the maximum permitted roof load. Remember to include the weight of the roof-rack. It's generally better to carry bulky but light things on the roof and heavy items inside the car to avoid affecting the vehicles handling. Also, don't forget the extra height. You may well find that many covered car parks are out-of-bounds with a roof-box on the car.
Tie it down
Loads on the roof must be attached securely. At speed the airflow will be trying to lift the front of any long load such as a Christmas tree so a secure fixing holding the front of the load down is important. The entire load will need to be securely tied down to prevent it sliding down when braking. Ropes/ straps can work loose so make sure you stop regularly and check them. Make sure roof mounted items don't overhang the windscreen and obscure visibility.
Adjust tyre pressures
Bear in mind that when carrying more people than normal as well as heavier loads, you will need to increase your tyre pressures to avoid handling being adversely affected. Check your handbook and don't forget to adjust them back again after the trip.
Survival Tip
Keep essentials nearby - It's a good idea to keep a bag handy for things you might need during a long journey i.e. refreshments, map, activities to keep the kids entertained. (Lofty)
Contents
Download the complete guide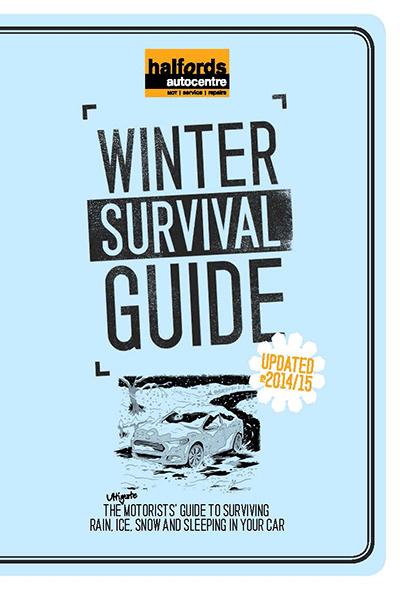 Download
Download the complete guide or read on for winter survival advice.