How to Drive in Wintery Conditions
Driving in winter can be challenging, with studies showing that drivers are six times more likely to have an accident but there are several things you can do to ensure a journey by car is as safe as possible.
Driving on UK roads during the winter months can provide motorists with challenging conditions that can change within the course of a single journey.
If the weather conditions are badly affecting the condition of the roads ask yourself if your journey is really necessary. Be honest with yourself, could you use public transport or walk? In severe conditions even these alternatives may not be an option.
Working with leading vehicle handling experts at MIRA we have produced the following advice for driving in severe weather conditions
General advice - Wear comfortable dry shoes to drive in. Cumbersome wet boots can inhibit operation of the control pedals.
Brake, steer and accelerate as smoothly as possible. Avoid braking or accelerating when cornering. The safest way of going around a corner or bend is at a constant speed, so prepare the vehicle's speed before reaching the bend or corner.
Stopping distances can be up to ten times longer on snow and ice, so maintain a sensible distance from the vehicle in front.
Stay in a high gear where possible to minimise the effects of sudden acceleration and deceleration.
Avoid hills. If this is not possible, when travelling up hill avoid having to stop by waiting until it is clear of other vehicles or leave plenty of room to the car in front. Keep a constant speed and choose an appropriate gear in advance to avoid having to change down on the hill. If travelling downhill reduce your speed before the hill, use a low gear and try to avoid using the brakes. If you have to use the brakes press them gently.
Try to park on a flat level surface or on a slightly downward facing surface so that you can drive away easily upon your return.
Many modern vehicles have electronically controlled driving aids which can be useful in adverse weather conditions. Make yourself aware of the aids on your vehicle and if there is a "winter" setting use it.
In low light conditions use dipped headlights to be more visible and if conditions warrant it, use fog lights. Remember they are not just used during foggy conditions, they can also be of benefit during heavy rain or snowfall; but do not use them unnecessarily and remember to switch them off if conditions improve as they may dazzle other road users.
If your vehicle has an on-board thermometer pay attention to the changes in temperature that may indicate an increased risk of ice. If in doubt assume ice conditions and drive accordingly.
Check that the wipers are serviceable and when switching the engine off ensure the wipers are in the off position. If you don't and the blades freeze to the screen you may damage them when you turn the ignition on.
Tyres - Low ambient temperatures significantly reduce normal (summer) tyre performance with the rubber becoming less compliant as the temperature drops. Winter tyres have a higher silica content in them allowing the tyre compound to be more compliant in low temperatures.
Tyre performance will vary across manufacturers and this is also true of winter tyres. For a more informed choice look at the tyre labelling guides (legal requirement), ask your local Halfords Autocentre and look for independent tyre reviews in magazines/internet.
Whatever your choice of tyre, ensure you check the tyre pressures on your vehicle when cold every two weeks. Use the manufacturer's recommended pressures. Do not reduce the pressures in an attempt to increase grip, this may result in compromised performance or tyre damage/failure.
In adverse weather conditions the greater the tread depth is, the better the tyre performance will be. Consider changing tyres at 3mm rather than the legal minimum.
Survival Tip
If conditions deteriorate, don't be afraid to turn back.(MIRA)
Contents
Download the complete guide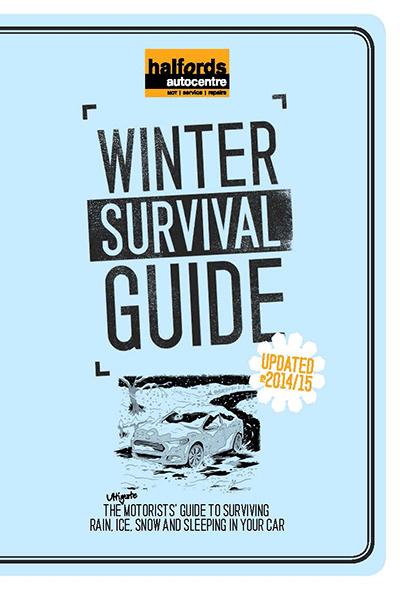 Download
Download the complete guide or read on for winter survival advice.