How to Avoid Slips When Walking
Navigating streets or country roads on foot in slippery conditions can be equally treacherous if you're not adequately prepared.
Having considered whether making your journey by car is essential, you may have decided to walk to your intended destination or the nearest public transport. Alternatively you may be forced to continue your journey on foot as a result of a breakdown or because weather conditions have deteriorated and you have had to abandon your car.
Remember that navigating streets or country roads on foot in slippery conditions can be treacherous, so make sure you are adequately prepared.
Footwear
Make sure you are wearing appropriate shoes. Whilst comfortable shoes with a thin sole are good for driving, in snow or ice walking boots or wellies with a good thick sole are best.
Keep a pair in the car with you should you need to abandon it and proceed on foot. (Many people often nip out for a short journey in their slippers but consider what would happen if you got stuck!).
Warm Clothing
It might be nice and warm inside but if you need to walk make sure you have a wind and waterproof jacket - preferably with elasticated cuffs and waistband to keep out the elements.
Remember the layer principle, the more air you can trap between your body and clothing the better.
Always remove layers if you begin to become too hot and sweat - because it dries and cools with the same effect as when you are wet.
Remember 30% of heat loss is through the head, so cover your head and ears with a scarf and hat.
Think feet first
Reduce the risk of slips on compacted snow and ice by taking short, flat-footed steps. Spread your body weight as evenly as possible across the soles of your feet and in fresh snow try to walk in someone else's footsteps (you will also use up less energy).
In deeper snow, always walk heel to toe. Applying your heel first will create a hole, which helps prevent your foot slipping forward from beneath you.
The Third Leg
Use a stick or pole for added balance and stability. In ice and snow one with a spike on the bottom is best for providing a sure footing.
See And Be Seen
Carry a torch in case visibility is poor or you need to walk on unlit roads. It helps motorists see you from further away and makes spotting trip hazards easier. If possible, wear bright clothing or a high visibility vest.
Survival Tip
It's important to maintain your core body temperature as half a degree fluctuation can lead to hypothermia, so concentrate on protecting your head, neck and torso. (Lofty)
Contents
Download the complete guide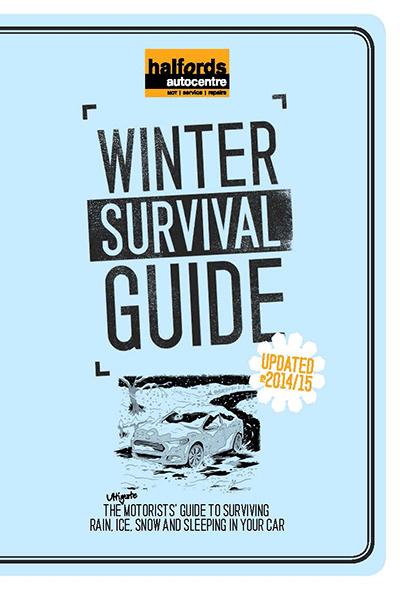 Download
Download the complete guide or read on for winter survival advice.