Dec 2016 | Potholes are a real problem in winter for the UK motorist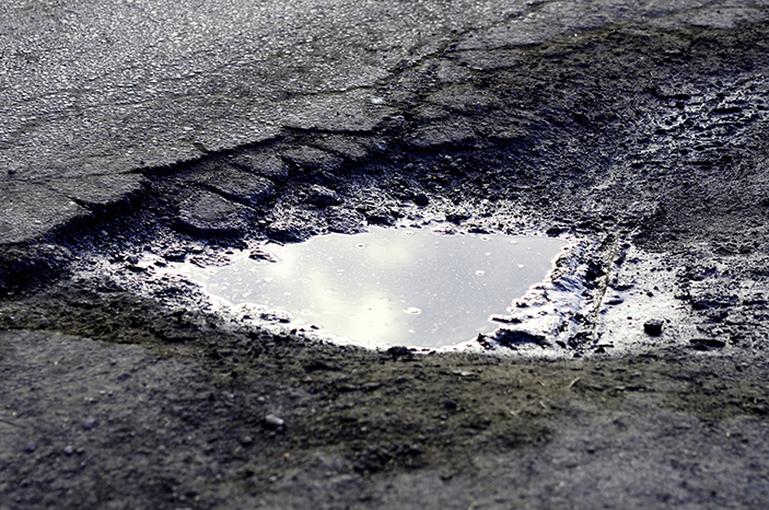 With the deluge of autumn rain and the anticipated winter weather Britain's pothole strewn roads could leave motorists with more than a little inconvenience
According to the Department for Transport about 1 million potholes will be fixed on UK roads in 2016, Halfords Autocentres' figures reveal that more than 8.9 million vehicles have suffered steering, suspension or wheel damage as a result of potholes over the past year, leaving motorists with an estimated bill of £1.2 billion in repairs.
Martin Barber from Halfords Autocentres explains: "Heavy rain onto the road surface seeps into the cracks and into the underlying layers, pushing out some of the dirt and gravel, which eventually causes a pothole.?
"So whilst traffic jams used to be the worst thing drivers would encounter behind the wheel on their daily commute, the poor surface of UK roads coupled with these repeated wet-dry cycles make the pothole situation worse and can cost you both time and money."
Hitting a small pothole can easily cause damage, yet despite insurance companies attributing as many as one in five mechanical vehicle failures to pothole-related damage - well over a third of people (40%) don't check their car after hitting one.
To help motorists overcome the problem, Halfords Autocentres not only offer free safety checks but also the opportunity to report the offending pothole and have teamed-up with Street Repairs - an online reporting tool which empowers road users to highlight the location of road maintenance and repair issues via their smartphone.
Colin Mahoney, Street Repairs MD commented: "Road users across Britain deserve to travel in safety. Tyres, suspension and steering are all crucial components of any vehicle and are all susceptible to damage after hitting a pothole, so it's vital to get your car checked by an expert because the damage isn't always immediately obvious."
Halfords Autocentres top driver tips for dealing with car safety and potholes:
Stay alert - keep an eye out for potholes so that you can avoid them safely wherever possible
Reduce your speed - striking potholes at higher speeds can cause more damage to your vehicle
Avoid unnecessary braking - try not to apply your brakes when driving over a pothole. When you brake you tilt the vehicle forward placing more stress on the front suspension
Hold the steering wheel correctly - in extreme cases, potholes can cause you to lose control of your vehicle. Make sure you are holding the steering wheel properly - '10 to 2' hands position to help you stay on the road safely
Check tyre pressure regularly - ensuring your tyres have the correct pressure can help minimise potential damage caused by potholes. Recommended tyre pressures can be found in your vehicle's handbook
Safety first - if you wish to inspect any damage to your car, ensure that you stop in a safe place. Only attempt to recover parts which may have fallen off, such as a hubcap, if it is safe to do so
Get checked out - if you have hit a pothole and suspect your car has sustained damage, we recommend you get the vehicle checked out by your local garage. Ask them to verify if there could be any other issues such as problems with tracking and wheel alignment, tyres or suspension
Report a pothole