Tougher MOTs from March 2013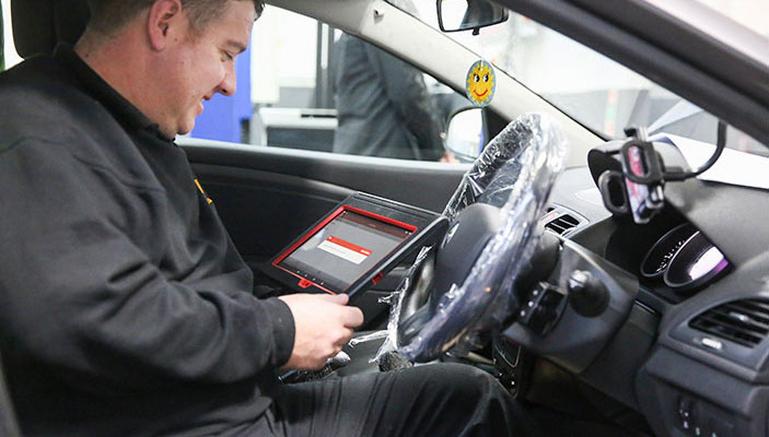 March 2013: EU brings in new tougher MOT test for UK motorists. Read more to find out all you need to know to ensure your car passes its MOT first time.
March 2013
Motorists who ignore dashboard warning lights face their vehicle failing the MOT test from today.
This increased risk of failure stems from changes to the MOT test that have been brought in to comply with new European rules - which include over 20 additional checks on brakes, steering, suspension and lighting.
Rory Carlin, Director at Halfords Autocentres said: "We have been preparing for these changes since last year and offering advice to motorists to help ensure that they are aware of them and continue to drive legally and safely. Maximising your vehicle's chances of passing its annual certificate of roadworthiness begins with proper servicing. However, if a vehicle does fail as a result of the stricter rules our mechanics will inform customers of what needs to be done in plain English and rectify the problem to ensure they are back on the road as quickly as possible."
The EU regulations mean that the new version of the UK MOT test requires checks on a number of additional items including:
Electronic power steering indicator light
Brake fluid warning light
Engine mountings
Speedometer
Headlight beam warning lights
Electronic parking brake control and warning lights
Electronic Stability Control (ESC) controller and warning lights
Supplemental restraint systems - i.e. airbags, seatbelt pre-tensioners and load limiters
Tyre pressure monitoring systems (TPMS)
Hybrid vehicle batteries
Headlamp washer jets and levelling function for cars with high-intensity discharge (HID) bulbs
Steering wheel locking systems
Electronic sockets for trailers
On-board visual aids such as cameras - where they act as a replacement for mirrors
All cars and large vehicles over three years old must pass an MOT test to be legally driven on UK roads and almost 2.7 million vehicles will undergo their MOT this month alone according to official figures from the Vehicle and Operator Service Agency (VOSA).
VOSA say that the new regulations take into account advances in technology on modern cars and that the changes will not affect the basic cost of a test.
The MOT test was first introduced in 1960 by the Minister of Transport, Mr Ernest Marples - MOT stands for the now defunct Government department the Ministry of Transport. The basic test of brakes, lights and steering was applied to vehicles once they were ten years old and then annually after that. In April 1967 the age when a vehicle had to have an MOT test was reduced to 3 years.
Since 1983 ambulances, taxis and vehicles with more than eight passenger seats, excluding the driver's, must have an MOT test after one year and annually thereafter.