How can I tell if my brakes need replacing?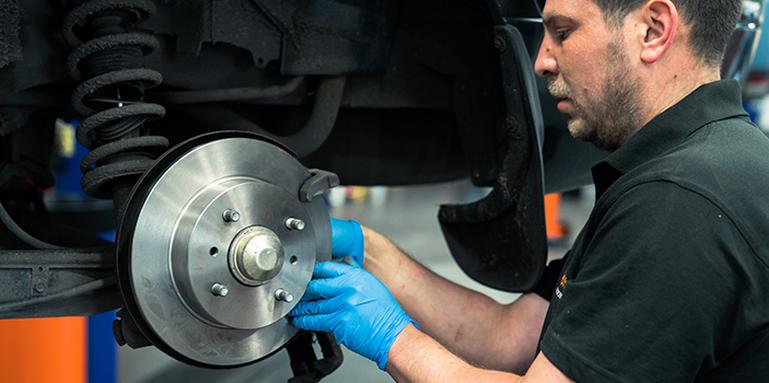 Brakes are one of the most vital components of any vehicle and it is essential that they are replaced when necessary. Find out here how to tell if your brakes need replacing.
Brakes are designed to be replaced at about 50,000 miles; however, there are many factors that determine how long they will last. The type of car you drive, your driving style, and what pads you've previously had fitted will all affect the lifespan of your brakes.
If you think there might be a problem with your brakes, get them checked by a qualified technician straight away.
We've listed some of the tell-tale signs of worn brakes below.
What to watch out for
Your mileage. Brakes naturally deteriorate over time. Brake discs should always be replaced in pairs and new pads will be needed at the same time as well. Discs should be replaced at around 50,000 miles, while pads every 30,000 miles.
A high-pitched or grinding sound. If you hear unusual sounds when you press the brake pedal, there could be a problem with your brake system. The sound will be audible while the windows are up, however, not necessarily loud enough to hear over the radio. You may also notice a squeaking sound if the car has been parked in the rain or standing water for long periods of time. This can cause a build up of rust on the discs, but don't worry, it'll quickly wear off when you're back on the road.
Leaks on the inner wheels. Your braking system is complex. If there are worn seals, loose connections or split hoses in the system, air and fluid can leak out, affecting your ability to brake. Look out for fluid on the inner wheels - brake fluid is normally clear, with a slight odour.
Pulling to the left or right. When you brake, does your car pull towards the left or right? As you press the brake pedal the pads need to be applied equally, and if one is worn more than the other, pulling to one side may occur. Another potential cause may be a sticking or failing brake calliper.
Vibrations. If you notice some vibration in your steering wheel or brake pedal as you slow down, get your brakes checked. A vibration in your brake pedal is a sign that your brake discs are warped.
Pressing to the floor. Drivers also need to be aware of how responsive their brakes are. If you have to press the pedal nearly all the way to the floor before the car starts to slow down, this could be down to a problem with your hydraulic braking system.




| | |
| --- | --- |
| Warning light. If your dashboard is displaying the brake warning light, get your car checked immediately. This is likely an indication that the brake hydraulic system has failed, and must be addressed as soon as possible to avoid a serious accident. Find out more about your car's dashboard lights. | |
Free Brake Checks at Halfords Autocentres
If you're unsure about the state of your brakes, book a Free Brake Check today. Our friendly, expert technicians will check all aspects of your braking system to identify any issues and help you stay safe on the road.
If a repair or replacement is needed, a no-obligation quote will be provided. We only use quality, original-spec parts and all our work is guaranteed for 12 months or 12,000 miles, whichever is sooner.
Book a Free Brake Check
.