Roadworthiness report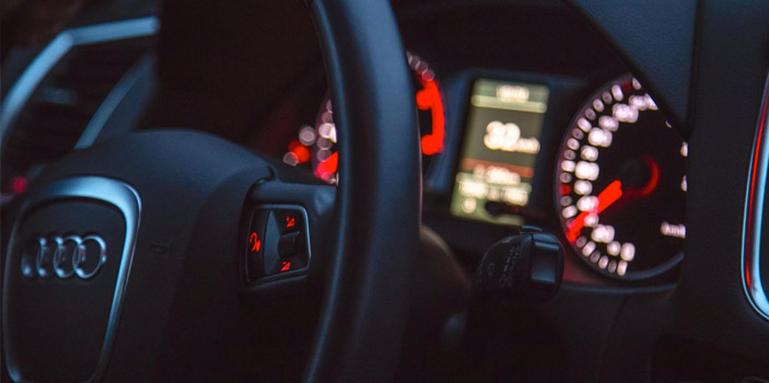 The 2019
Roadworthiness Report
Driving is the UK's favourite mode of transport,
but are we safe enough behind the wheel?
Scroll Down
We travelled more than 254.4 billion vehicle miles by car in 2017 - this number is the highest to date and is growing year on year.
Safety and reliability of cars is better than it ever has been, yet thousands of us still fall victim to accidents and breakdowns on the UK's roads each year.
Do we, as road users, have the correct levels of road safety knowledge to be behind the wheel? Are our vehicles fit for purpose? Do we make the regular and appropriate checks? Whether they're minor, A or B roads or even motorways, are the roads we travel on safe?
Compiling research and statistics from a range of sources - including exclusive data - Halfords Autocentres has pulled together this comprehensive Roadworthiness Report to explore why we are coming unstuck on our roads and what we, as a nation, can do to make our lives as motorists safer.
We are shining a light on the issues facing road users up and down the UK to highlight what motorists, campaigners and government need to do to increase roadworthiness and reduce breakdowns and accidents on Britain's roads.
Accidents in the UK
According to the Department for Transport More than 25,000 people were killed or seriously injured on our roads last year - which spells out the fact that, at worst, our roads pose a big danger.
The picture is serious yet it's not all bad news. Despite congestion and traffic being high - and car ownership increasing - deaths on the roads have actually declined since the mid-1960s. The Department for Transport reported in November 2018 that there had been a 6% decrease in motorists affected by accidents.
From Department for Transport data, we can also see that road users injured in accidents in Great Britain were lower in 2017 than the previous year by more than 10,000, and the year before that by more than 20,000.
Reported road casualties resulting from accidents
Source: Department for Transport
Accident hotspots by region
Where are we most at risk? Official data shows the regional hotspots for accidents in the UK. Unsurprisingly, of England, Wales and Scotland, England has the highest number by far with 113,099 while Wales and Scotland have 5,607 and 8,271 respectively. Regionally, London comes out on top with 25,699 people affected as a result of an accident.
A regional comparison (2017)
Source: Department for Transport
Driver errors contribute to 70% of collisions
The term roadworthiness sometimes refers to the vehicle itself, but this can also be used when discussing whether we, as individuals, are safe and knowledgeable enough to be on the roads. A car, after all, is only truly fit for purpose if it's being driven safely.
So, what actually contributes to accidents in the UK?
Contributory factor reported in accidents UK (2017)
Source: Department for Transport
Across the whole of Great Britain, there were 126,977 people who experienced ill effects as a result of accidents in 2017. The stand out statistic from this Department for Transport data reveals that a staggering 89,518 (70%) of these were caused by driver/rider error or reaction. Careless driving is having a clear impact.
The next table shows the errors that drivers make:
Driver/Rider error or reaction
*Columns may not add up to 100 per cent as accidents can have more than 1 contributory factor.
A staggering 83% of UK motorists lack basic safety knowledge
Given those numbers, it's worth exploring how well people know the rules of the road. Over 55,000 people took our 2018 Halfords Autocentres Roadworthiness Quiz, answering a variety of questions based on basic safety knowledge and the Highway Code. These questions included identifying the legal drink driving limit and identifying which is the fog light symbol.
In order to pass the test, there was a requirement to get 86% of the questions correct. Anyone below this mark was deemed 'unroadworthy' and potentially unsafe to be at the wheel.
The result shows that 83% of Brits are unroadworthy and scored less than the 86% pass rate.
Did you know?
83% of Brits are unroadworthy
Source: 2018 Halfords Autocentres Roadworthiness Quiz
Regional roadworthiness failure rates
Source: Halfords Roadworthiness Quiz
The regional breakdown shows that an incredible 99% of London drivers failed the test. That's backed up by Department for Transport statistics from 2017. These show that there were 25,699 accidents with people affected in London and the contributing factor in 18,069 cases (70%) were driver/rider error or reaction.
London Road Safety Council spokesman Mark Bunting told Halfords Autocentre that this was a real concern and that work is under way to tackle London's issue. He said:
"London's boroughs are working in partnership with Transport for London and London's Police Forces on a bold venture that aims to eradicate death and serious injury from the capital's roads by the year 2041.??
This venture is called 'Vision Zero for London', and has five key pillars.
Vision Zero for London: The 5 pillars
Safe speedsEncouraging speeds appropriate to the streets of a busy and populated city through the widespread introduction of new lower speed limits
Safe streetsDesigning an environment that is forgiving of mistakes by transforming junctions, which see the majority of collisions, and ensuring safety is at the forefront of all design schemes
Safe vehiclesReducing risk posed by the most dangerous vehicles by introducing a world-leading Bus Safety Standard across London's entire bus fleet and a new 'Direct Vision Standard' for Heavy Goods Vehicles
Safe behavioursReducing the likelihood of road users making mistakes or behaving in a way that is risky for themselves and other people through targeted enforcement, marketing campaigns, education programmes and safety training for cyclists, motorcycle and moped riders
Post-collision responseDeveloping systematic information sharing and learning, along with improving justice and care for the victims of traffic incidents
Mark added: "But we can't hope to achieve this ambition without buy-in from London's road users. We all have a duty to share the roads and look out for each other.
"This includes taking the time to make sure we are up-to-date with the rules of the road and understand how we can play our part. It is vitally important that, no matter how we use London's road network, we all remain 'roadworthy'.
A number of eye-opening and stand out findings from the 2018 Halfords Autocentre quiz data were also discovered, including:
1 in 10 drivers thought the front fog light symbol was the main beam headlight symbol
55% of drivers are unaware of the impact a wet surface can have on stopping distance
62% of drivers don't know the legal drink driving limit in England
43% of motorists believe the drink driving limit is the same in England and Scotland
62% of motorists are confused as to what is legal or illegal when driving
73% of drivers are unaware of what makes a windscreen crack illegal
61% of drivers are unaware that having four worn tyres can cost a fine of up to £10,000
29% believe eating while driving is illegal
Dangerous defects in our vehicles
Even if you're fully safe to take to the roads, it's imperative that your vehicle is too. Department for Transport statistics from 2017 show that, of the 126,977 people impacted as a result of accidents in Great Britain, 2,199 were as a result of vehicle defects. Despite this being accountable for just 2% of the total, that still means that more than 2,000 of these could have been prevented if the vehicles were fit for purpose. Thousands of Britons are involved in collisions each year due to not appropriately maintaining their vehicles, highlighting just how important it is to carry out regular checks.
Of these 2,199 accidents, 802 (36%) were for defective brakes and 719 (33%) were attributed to illegal, defective or under inflated tyres - the third highest contributory factor was defective steering or suspension with 391 (18%) cases.
Did you know?
36% of accidents caused by vehicle defects in Great Britian were due to faulty brakes
Source: Department for Transport (2017)
Breakdown incidents
Highways England deals with more than 85,000 breakdowns each year on the roads it looks after. Many of these are caused by lack of checks that could have been carried out with little fuss.
Over a two-year period, more than 40 per cent of the breakdowns Highways England attended were due to the following:
Vehicles running out of fuel
Poor tyre maintenance
Power loss
Engine trouble
Have you ever wondered where breakdowns are most likely to happen, on what day and in which month of the year? Data released under the Freedom of Information Act from Highways England in November 2016 allows us to answer these questions.
Did you know?
The most breakdowns occur on a Friday
Across all three years, the most breakdowns occurred on a Friday, and this day is also the busiest day of the week for traffic, according to the Department for Transport. It's unsurprising that it's the busiest day when you consider it also spells the end of the working week. With large numbers of vehicles embarking on family road trip holidays or workers travelling home from a week away often creating congestion, this can cause strain on the capabilities of vehicles.
Breakdown incidents on a Friday
Did you know?
Your car is more likely to breakdown during the summer
In 2013/14 and 2014/15 the most breakdowns happened in July, while August was the month with the most in 2015/16. Not only can the heat of the summer affect the function of a battery, there are a number of other elements of a vehicle that the warm weather can impact on. The rubber of a vehicle's tyres can disintegrate in the heat, the engine can run out of coolant far quicker, oil will need changing more regularly and fuel also evaporates at a faster rate. Lots to consider, so it's no wonder the summer months see far more vehicle breakdowns in the UK.
Month involving most breakdowns
Did you know?
Most UK breakdowns happen on the M1
Although it's not the longest stretch of road in the UK, the 200-mile M1 experiences the most breakdowns per year, followed unsurprisingly by the ever-hectic M25 and also the M6.
Top 5 breakdown locations by highway (2013-2016)
Did you know?
Majority of UK breakdowns occur in East region
Considering that many of the main roads in the East are A roads, it may be surprising to discover the region comes out on top for breakdown incidents. It's followed by the South East and North West in second and third position.
Breakdown incidents by region 2013-2016
Do we understand the MOT rules?
Did you know that new MOT rules were introduced in May 2018? These new regulations include stricter rules for diesel vehicles and their emissions and there are also three new defect categories.
These new measures have been put in place to heighten safety. Since the changes have come into play there has been mixed data, some showing a rise in MOT failures, and others showing a fall. However, no matter how you look at it more than 1 in 3 cars still fail their MOT and are deemed unsafe for the road.
The 2019 Halfords Roadworthiness Quiz throws up some equally concerning statistics about the safety of motorists in the UK. Along with displaying motorists' lack of road safety knowledge, the quiz clearly shows that drivers don't necessarily understand MOT rules or many of the basics of car maintenance
There were 22,387 motorists who took part, of which 57% were male and 43% female - 71% of the respondents have been driving for over 10 years.
key data from 2019 Halfords Roadworthiness Quiz
Subaru drivers are the best-informed on road laws, with 11.6% of the Japanese brand's owners getting every single question right, compared to an average of 6.9%
36% of drivers haven't looked at the Highway Code since they passed their test
20% of motorists haven't looked at the Highway Code in over 10 years and only 11.5% have read it in the past year
Exactly 70% of drivers believe you should get in the left hand lane as soon as possible when there is a lane closure
Only 27.6 per cent (less than one in three) know that the correct procedure for lane merging is to drive to the end of the closed lane and merge-in-turn
44% of motorists believe that having your car serviced by a non-franchised garage can invalidate your warranty, which is completely untrue
40% of motorists have no idea what the minimum legal tyre tread depth is (1.6mm)
22% (more than one-in-five) think it's legal to drive with an empty screenwash bottle
Exactly 40% of motorists are unaware of the new items added to the MOT test in 2018
When we look at the 2018 and 2019 data produced from Halfords Autocentres, and take into account accident statistics from the Department for Transport and Highways England, there is an identifiable, and worrying trend. Many accidents and incidents that occur on the UK's roads could be avoided with better driver knowledge and regular car maintenance.
Worst junctions in the UK
While the number of roadworthy drivers is a concern, what about the condition of the roads they drive on?
We've all been caught in bumper to bumper traffic at junctions at some point or another. Probably at the most inconvenient times, too. Traffic congestion, confusing signage and complicated junction layouts can all contribute to a troublesome junction - making some sections unsafe, especially at certain times of the day.
Often, motorists' errors in judgement and poor understanding of basic rules of the road can be highlighted at confusing junctions. The Department for Transport statistics showed a massive 39% of the 89,518 road users affected as a result of accidents were being caused by drivers failing to look properly.
The problem is so widespread that the website roads.org.uk has a whole page dedicated to â??bad junctionsâ?? in the UK. It has pulled together a list of the 52 worst junctions by design in the whole of Great Britain. Weâ??ve selected three of the most famously exasperating junctions from the list, but you can see all 52 on the roads.org.uk website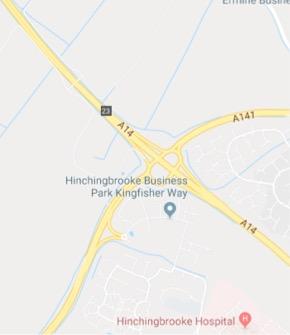 1. Spittals Interchange - A14 - A14 - A141
This junction, just north of Huntingdon, has one very peculiar feature. Traffic coming westbound has to turn off at the exit in order to stay on the same road.
Roads.org.uk explains further why the junction doesnât work:
"The A14 is a new road, but rather than being new build (aside from a few short bits) it's mostly cobbled together out of bits of other road. This section used to be the A604 (under the roundabout) which at the time took the main traffic flow. When the A14 came, it needed to turn off the A604 alignment and head west, but the junction wasn't altered.??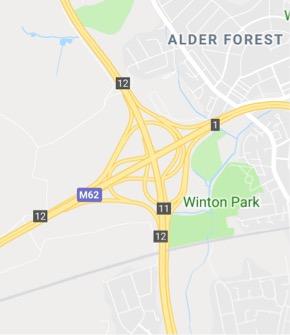 2. Worsley Interchange - M60 - M62 - M602
This Manchester-based junction is notoriously busy and complicated - it even earned a place in the Guinness Book of World Records for having the most traffic lanes side-by-side - that number being 17.
Roads.org explains:
"This is actually two junctions next to each other, since they each have their own problems, and together they cause more? This junction is utterly unfit for the hundreds of thousands of vehicles that pass through it each day.??
The platform also offers the chance for road users to give their opinions and offer others help. One commenter Nathan Hastings suggested for motorists that may encounter the Worsley Interchange: "My advice to you is, always use the A580 instead of the M602 if you're going there on the M61!??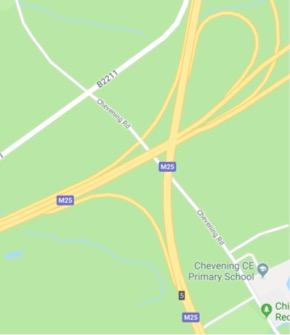 3. Chevening Interchange - A21 - M25 - M26
This junction is the point at which the M25 meets a major route to the south coast - the A21 - and also the M26. Roads.org.uk explains why this interchange doesnât function well:
"The M25 wasn't meant to be the through route here. The interchange is built around a section of the once-upon-a-time A21 Sevenoaks bypass, which used to be the north-south route here, explaining why that is a mainline carriageway."
"When the M25 was built, it stopped here, the A21 continuing north and the M26 continuing east. When finally the ends of the M25 were joined up, it was too late, and the junction had to be adapted. The M25 is now carried on little two-lane sliproads.??
Did you know?
34% of drivers say they avoid the motorway because they didn't feel safe driving on it
Source: InsuretheGap.com
How safe do we think our roads are?
Research from InsuretheGap.com showed that nearly a fifth (17%) of drivers (from a survey of 2,000 people) said they never use the motorway. Of those respondents, safety issues were the main factor preventing them from doing so, with 34% saying they avoided the motorway because they didn't feel safe driving on it.
The two 'least-liked' motorways from the research were the M25 and M6. This is unsurprising considering the M25's notoriety for congestion and the M6 being the UK's longest.
For a more positive view, the A66 and M40 came out on top for being the top two most-liked motorways. Reasons cited for their shining reviews included plenty of service stations, lack of debris, light traffic and few roadworks.
Feeling unsafe was one of the reasons people surveyed gave for not liking the M25 and M6 - there could be a variety of reasons for this. This could include the previously discussed data that indicates large numbers of drivers themselves aren't actually roadworthy, or that cars aren't fit for purpose. Other reasons could be the condition of the roads themselves, infrastructure and design.
The top 5 reasons people gave for avoiding the M25 & M6
M25
Not enough speed cameras
Too much road debris
Confusing signage
Poor lighting
Junctions are dangerous
M6
Not enough speed cameras
Too much road debris
Feeling unsafe
Too few service stations
Confusing signage
The problem with potholes
Of the 126,977 people affected as a result of accidents in 2017, road environment was attributed to 15,535 (12%) of cases. One of the main issues for motorists when it comes to road environment is potholes.
Potholes have been a large source of annoyance for motorists in the UK for many years. But, as we can see from the Department for Transport data, it's not only damage to vehicles that's worrying, it's casualties as a result of accidents. Pothole related fatalities are a real concern, especially for cyclists.
The New Statesman highlighted Department for Transport data in an article about the problems potholes continue to cause, stating: "At least 390 cyclists were killed or seriously hurt between 2007 and 2016 because of potholes.
It's little wonder that potholes remain a problem when traffic on rural roads increased by 12.8% in the five years from 2012 to 2017. That's according to the 'Road Traffic Estimates: Great Britain 2017' document produced by the Department for Transport.
Mark Morrell, from Brackley, Northamptonshire, became a famous anti-pothole campaigner in 2013 and managed to get a million pounds worth of road repairs across Northamptonshire. He went on to campaign for a countrywide focus on the repair of potholes. Unfortunately Mr Morrell put an end to his campaigning in February of 2019 to focus on his health after the pressures of campaigning took their toll.
When he announced he was taking a step back, Mr Morrell told ITV: "Hopefully I've made a difference, hopefully I've at least saved someone getting injured if not killed.
"I got into it because of a dangerous pothole on an A-road through a village called Farthinghoe where people were going on to the other side of the road to avoid the pothole with oncoming traffic.
"Even though I reported it nothing happened. Eventually I ended up ringing the police on 101 because I didn't want an incident there with someone getting killed of injured."
It's understandable why Mr Morrell has felt so passionately about campaigning for change when it comes to potholes - they're clearly a proven danger to safety.
While the government pledged £420 million in October 2018 to repair the nation's roads, this wouldn't be enough to address the total problem. Councils need funding and support in order to fix potholes and make their roads safer for all road users.
The RSTA Vital Statistics: Potholes
In 2017, the Road Surface Treatments Association released a document showing the 'vital statistics' regarding potholes.
£11.8 billion backlog of pothole repairs
14 years to repair all potholes in UK
2 million potholes repaired in 2016
17 minutes between claims for pothole-related damage
247 billion total traffic miles in 2015
£27,000 per mile investment in local roads
£1.1 million per mile investment in national road network
-16% cuts in council highway maintenance budget
£69 million average per council to fix their local road network
Steering & Suspension
From our 2018 Halfords Autocentres Roadworthiness Quiz, we discovered that 15% of drivers are unaware of the legal tread required for their tyres. By law, car tyres are required to have a minimum tread depth of 1.6mm. This depth is required to be in an unbroken band around the central three quarters of the tyre.
Steering and suspension repairs (2018)
Top five manufacturers
(by number of steering and suspension fixes)
Vauxhall ? 12,654
Ford ? 11,707
Renault ? 4,816
Peugeot ? 3,681
Nissan ? 3,645
Top five locations
(by number of fixes per store)
Nottingham
Cheltenham
York
Aberdeen
Edinburgh
Exclusive data from Halfords Autocentres
Your bugbears: The roads you hate
Understandably, problems faced on the roads can create real bugbears for commuters. From the condition of the roads creating costly vehicle damage, to traffic congestion causing time wasting hold ups - the state of the UK's roads can cause many headaches for motorists. We asked you for your commuting woes...
Commuter Shaun Camp told us about a roundabout along a Norfolk to Suffolk route:

"The road from Littleport roundabout to Mildenhall (A1101) is a shocker, it's patched everywhere instead of being properly sorted - if you go above 50mph you'll possibly take off from hitting a dip. I have to use the road a few times for work, but I try to avoid it like the plague if possible.
Carmen Hannibal-Stewart highlighted a worrying junction in Norfolk:

"The A47 junction at Emneth it's so dangerous! I'm terrified of pulling out of there!
Carris Boast commented on a Birmingham junction:

"There's a terrible junction/turning near Birmingham where the M6 joins onto the M42 near the airport. I've missed it many times and end up having to travel into Birmingham instead of going to Bristol.
Lucy Jackson told us about a frustrating traffic light system in Lincolnshire:

"There's a terrible junction/turning near Birmingham where the M6 joins onto the M42 near the airport. I've missed it many times and end up having to travel into Birmingham instead of going to Bristol.

Lucy added:

"Also, the slip roads onto the A1 are shockingly short!
Jade Lamb explained a frustrating traffic problem in Northampton:

"Coming off Boughton Green Road in Northampton onto the main A508 is stressful any day of the week. There is a constant stream of cars coming from the right, cars trying to turn onto the road that block you if you want to go over and if you can't get out you get a big old backlog of vehicles behind you. Plus Boughton Green Road is a residential street so there are always cars parked on either side and trying to parallel park on it is enough to make you want to cry.
East Sussex is no stranger to a hair-raising road, as Alex Jones explained:

"There's a road near Winchelsea near Hastings called 'Dumb Woman's Lane' and it is extremely narrow and nerve wracking to drive down!
Maise Hunns told us about a collision she was involved in on one of the worst roads in the UK:

"The Sutton Road junction with Tydd St Mary is a horrid junction in Lincolnshire and the road is named one of the worst in the UK. It was on the cross roads junction - the third party went straight over, without giving way on a blind junction and crashed straight into my drivers side as I came down the main road. We both went spinning."

"We believed it to be because his sat nav picked up the junction as a 'straight road' - and he was not from the area. There have been so many accidents on that junction!
What's clear is that many motorists struggle with a range of issues on the roads. Whether it's due to dodgy junctions, poor road conditions, badly planned infrastructure or hellish traffic light systems, people all across Great Britain face frustrating, and sometimes dangerous, commutes on a daily basis.
UK road congestion
As previously mentioned, congestion is becoming an increasingly pressing issue for the Department for Transport, with a push to invest in public transport to ease traffic troubles.
These issues are costing commuters time and money. Inrix data published in 2019 showed that motorists lost an average of 178 hours each in total to congestion in 2018. It also estimated the value of the time lost to be around £7.9bn which is £1,317 per driver.
Top 5 congested roads in the UK
London

A406 North Circular Rd from Chiswick Roundabout to Hanger Lane

61 hours lost

London

A23 Brixton Rd from Kennington to Thornton Rd

56 hours lost

London

Kingsway / Strand / Cannon Str from Russell Square to Monument

49 hours lost

Leeds

Leeds Rd-Saltaire Rd from Harrogate Rd to Bradford Rd

44 hours lost

Birmingham

A34 Stratford Rd from Highfield Rd to Highgate Middleway

44 hours lost
*taken from Inrix data via BBC News
Traffic increasing
In July of 2018, the Department for Transport released 'Road Traffic Estimates: Great Britain 2017' showing how much vehicle traffic is increasing. Interestingly, van traffic has continued to grow quicker than any other motor vehicle type, but all forms are rising.
5 busiest sections of road
Vehicles per day in 2017
*Department for Transport Road Traffic Estimates: Great Britain 2017
Traffic statistics 2017
Car traffic grew by 1.1% from 2016 to 254.4 billion vehicle miles (bvm); the highest annual car traffic estimate ever
Van traffic continued to grow more quickly than any other motor vehicle type, rising 2.7% from 2016 to 50.5 bvm
Lorry traffic increased by 1.2% from 2016, continuing a trend of steady growth for the past five years
Pedal cycle traffic was 3.3 bvm, 28.2% above the figure ten years before
Motorways carried 68.7 bvm of traffic, 1.4% more than in 2016 and 10% more than ten years ago
The Strategic Road Network carried 94.1 bvm of traffic; one third of all motorised traffic in England, a new high
'A' roads saw a 1.1% rise in traffic from 2016
Minor road traffic increased 1.4% since 2016
What can be done?
The overall statistics show positive numbers for Great Britain with more than 20,000 fewer road users affected by accidents in 2017 than 2015. However, drilling down further into these general numbers shows worrying trends.
There is much to be done to ensure safety increases on our roads. In order to do so, we must ensure we are roadworthy. Drivers must improve their knowledge of car maintenance and the rules of the road which will help decrease accident numbers and breakdowns.
When it comes to problems with road conditions, it may feel a little out of reach, but Mark Morrell proved there is so much that can be done. He managed to get a million pounds worth of road repairs across Northamptonshire alone which just goes to show how campaigning to councils can make a huge difference.
With traffic increasing, not only do we need to become more safe ourselves and ensure our vehicles are fit for purpose, but there also needs to be appropriate investment into the UK's road network from the government.
To keep you and your vehicle roadworthy, why not employ the help of Halfords Autocentres? Whether you need an MOT, service or even if you have some repairs that need taking care of, keep on top of your car maintenance and let us be of assistance.
What needs to change?
1. We need to improve our knowledge
There have been calls for regular mandatory driver retesting. A January 2019 survey shows that two in three motorists now support the idea of compulsory driving retests. Three in five said all motorists should be tested every ten years.
Whether this ends up becoming the policy or not, keeping on top of our knowledge of the roads is vital to the safety of all road users. During your next lunch break, why not visit the GOV.UK website and brush up on your knowledge of the highway code?
2. Improve our car maintenance
Maintaining a full service history will mean your vehicle will be fully operational at all times. Keeping on top of any issues will mean they are caught before they become a problem and cause an accident or breakdown.
3. More money from the government
While the government pledged £420 million in October 2018 to repair the nation's roads, this simply isn't enough to fix the problem. The amount of funding required to get the local road network in full working order is actually approaching £10 billion.
4. Congestion problem needs addressing
Inrix data published in 2019 showed just how costly congestion is for motorists in the UK. Not only did they lose an average of 178 hours each in total to congestion in 2018, at a cost of £1,317 per driver, the cost of road congestion to the UK economy in the same year was £8bn.
Smart motorways (roads which use 'active traffic management') are set to increase by 400-miles across the UK in a bid to offer more space for road users.
5. Take action
Take a leaf out of Mark Morrell's book and act when you can. If you see a pothole that needs fixing you can report it. Challenge your council on poor road conditions - there's more power in your hands to make a positive change.