Step 1: Select an Autocentre
Yuasa Black Lifetime Guarantee Battery 096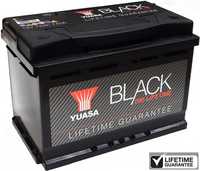 The Yuasa Black Lifetime Guarantee Battery 010 provides long-term trouble free motoring and the ultimate peace of mind. Able to power up to 130,000 starts (compared to around 20,000 on a normal battery), there is a lifetime guarantee on this battery for the vehicle it has been fitted to.
Built with special plate additives and advanced Nano Crystal technology, the Yuasa Black Lifetime Guarantee Battery 010 is the ultimate battery upgrade and its superior durability and improved charge acceptance deliver maximum performance and reliability throughout its extended life.
With a faster charging rate and rapid recovery, this battery is the ideal choice for drivers using lots of plug in devices, such as phones, DVD players, sat navs and entertainment systems. Yuasa Black Lifetime Guarantee batteries are also perfect for air conditioning, climate control systems, heated seats and also for drivers who make a lot of regular short journeys. Not suitable for Start-Stop or Micro-Hybrid vehicles.
Fitting
All batteries include fitting by one of our qualified technicians at your local autocentre. We'll also safely and responsibly dispose of your old battery for no extra charge.
Imported vehicles
Battery applications are for UK supplied vehicles only. Imported vehicles may require a different battery. Please visit your local Halfords Autocentre for further details.
Startup power: 740amps
AH value: 75
Bench charge: 4amps
Average weight: 19.9kg
Dimensions (LxDxH): 278 x 175 x 190mm
Guarantee: Lifetime to the vehicle fitted years