Step 1: Select an Autocentre
Halfords Calcium Battery HCB075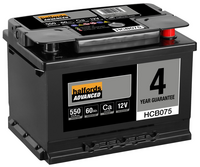 With up to 25,000 engine starts, the Halfords Calcium Battery HCB075 is a highly reliable and maintenance-free battery with a 4 year guarantee.
Fitting
All batteries include fitting by one of our qualified technicians at your local autocentre. We'll also safely and responsibly dispose of your old battery for no extra charge.
Imported vehicles
Battery applications are for UK supplied vehicles only. Imported vehicles may require a different battery. Please visit your local Halfords Autocentre for further details.
Startup power: 550amps
AH value: 60
Reserve capacity: 105amps
Bench charge: 6amps
Average weight: 14.8kg
Dimensions (LxDxH): 242 x 175 x 175mm
Guarantee: 4 years