Mercedes Service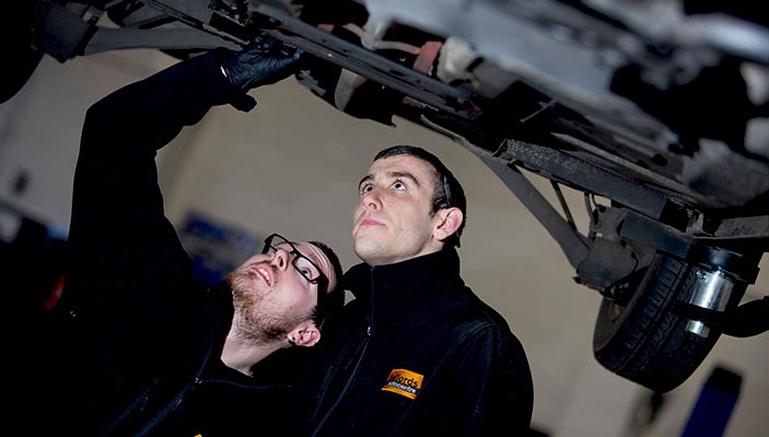 At Halfords Autocentres our customers benefit from warranty protection, expert advice and an average cost saving of 42% on Mercedes servicing compared to main dealer prices!*
Save an average of 42% on Mercedes dealer costs!*
Protect your warranty and get your Mercedes service book stamped
12-month/12,000-mile guarantee on all parts and work
Genuine Mercedes Benz or OE-standard parts
At Halfords Autocentres our customers benefit from warranty protection, expert advice and an average cost saving of 42% on Mercedes servicing compared to main dealer prices!*
We service all models, from A-Class to C-Class, from Sprinters to Vitos. Book a Mercedes service today and see for yourself why 9 out of 10 of our customers would recommend us.†
Your warranty is protected
Thanks to the introduction of 'Block Exemption' legislation in 2003, Halfords Autocentres is able to service your Mercedes whilst protecting your warranty.
We use either genuine Mercedes or Original Equipment (OE) parts, OE equivalent means the parts have not necessarily been manufactured by Mercedes but are the same specification used by the company.
How to choose your Mercedes car service
We offer a variety of servicing options to help keep your Mercedes in perfect condition, starting from just £99. Our menu servicing which includes our Interim Service, Full Service and Major Service are all designed to meet or exceed the service schedules of most manufacturers.
Use the table below to help decide which Mercedes Benz servicing option is right for your car.
Want to know exactly what each service option covers? Take a look at What's Included.
Low to average mileage
| | Interim | Full | Major |
| --- | --- | --- | --- |
| 6 months | | | |
| 12 months | | ✔ | |
| 18 months | | | |
| 24 months | | | ✔ |
High mileage
| | Interim | Full | Major |
| --- | --- | --- | --- |
| 6 months | ✔ | | |
| 12 months | | ✔ | |
| 18 months | ✔ | | |
| 24 months | | | ✔ |
Do you use quality parts?
Yes! To ensure protection of your warranty and the health of your car, we use genuine Mercedes Benz parts wherever possible. Alternatively, we may use Original Equipment-standard parts, which are of equal quality to Mercedes-branded parts.
Price protection
Engine size
Mercedes models

Interim

Full

Major

<1300

-

from

£79

from

£149

from

£215

1300 - 2200
A160 BLUE-CY CLASS SE CDI, B150 SPORT AUTO, C180 BLUE-CY SPORT CGI A, E220 BLUE-CY AGARDE CDI A, VIANO AMBIENTE 2.2 CDI BLUE-CY

from

£99

from

£169

from

£235

>2200
E350 AGARDE CDI BLUE-CY A, ML300 GRD EDN CDI B-EFF A, SL 300 AUTO

from

£129

from

£199

from

£265
Customers benefit from our Price Promise on all Mercedes car service options. This guarantees you won't find a better price locally - because if you do, we'll refund the difference!•
The table on the right will help you figure out the cost of your service - starting from just £99.
Alternatively, you can get a quote that's bespoke to your car by providing your registration number when you book online.
Manufacturer's Service
Although our menu services are designed to meet or exceed Mercedes' recommended service schedules, you can still opt for a manufacturers' service if you so wish. Call 0800 096 4216 for a quote today.
In isolated cases, a manufacturer's service may be required to guarantee your warranty.
Mercedes MOT and service deals
Is your MOT due? Take advantage of our MOT and service offers and save even more!
Book Now
Book a Mercedes Benz service online and you can choose a time to suit you. If a slot is free, we may be able to service your car later today!
Alternatively, call 0800 096 4216 to book a manufacturer's service.
* Based on independent telephone research of 31 Mercedes Benz dealerships across Great Britain, comparing our in-centre price list against the price quoted for a full car service at the dealership, research carried out in February 2014.
†Based on 4000 customers completing a feedback form every month.
• If you find the same goods or service cheaper within 3 miles of the autocentre and within 7 days, we will refund the difference.