Thank Falken it's Friday!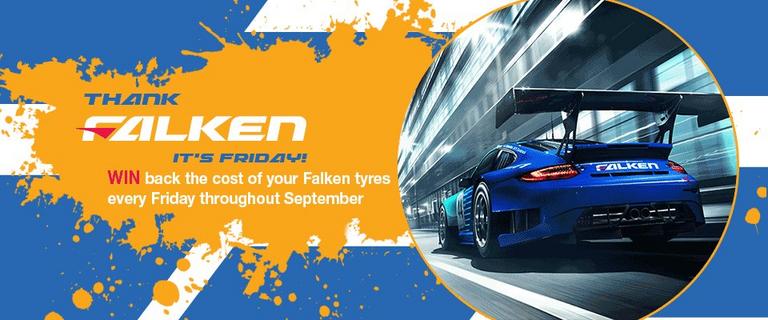 Every day throughout September we're selecting one lucky customer to win back the cost of their Falken tyres!
WIN back the cost of your Falken tyres this September
Every day throughout September we're selecting one lucky customer to win back the cost of their Falken tyres!
All you have to do is have your Falken tyres fitted at a Halfords Autocentre between 1st and 31st September and you'll be automatically entered into the competition.
Each week's winners will be announced on Friday - so you may find yourself thanking Falken it's Friday!
View the Falken tyre range
Book tyres online
Winners
Wednesday 30th September 2015
Mr J Tan (Cambridge), Mr D Flemming (Southampton), Mr M Duncan (Ayr), Miss E Taylor (Derby), Ms J Stevenson (Winchester)
Friday 25th September 2015
Mrs M Dodd (Eastleigh), Mr L Popkiewicz (Shoreham), Mrs S Hinde (Barrow-In-Furness), Mr P Mclean (Witney), Mr A Sibley (Manchester), Mrs Liane Hales (Cambridge)
Friday 18th September 2015
Mr M Hawkins (Canterbury), Mrs C Hilling (Glasgow), Mr K Hopwod (Nottingham), Mr J Garforth (Fareham), Mr M leventhal (Bristol), Mrs J Murray (Ayr)
Friday 11th September 2015
Mr S Manning (Reading), Mr Tidcombe (Bristol), Mr R O'Toole (Bedminster), Mr A Szczur (Southampton), Mr P Dixon (Nottingham), Mr J Knight (Southampton)
Friday 4th September 2015
Mr D Fifield (Plymouth), Mr R Lateward (Colchester), Mrs K Marshall (Oldbury)
Terms and conditions
The competition begins on 1st September 2015 and ends on 31st September 2015.
All customers who have one or more Falken tyres fitted at any Halfords Autocentre during the dates specified will be automatically entered into the prize draw.
Winners will be drawn at random from all valid entries received during the specified week, and shall be notified by email or telephone each Friday.
Upon agreeing to accept the prize, winners will be bound by the terms and conditions of this competition.
Winners will be refunded the cost of their Falken tyres up to the amount of £400 (inc VAT). The refund will be issued by cheque within 10 working days of the winner being notified.
Winners' names will be published via our website and social media channels and winners may be asked to participate in publicity.
Cancelled or refunded orders will not be eligible for entry.
If the prize is unclaimed after reasonable efforts have been made to contact the winner, a new prize draw may take place.
The prize is non-transferable and non-refundable.
No purchase necessary. To enter via post, please write to the address below, marked "FAO: Thank Falken It's Friday competition" including your name, phone number, email address and postal address.
Only one entry per household is permitted.
Halfords Autocentres reserves the right to alter, amend, foreclose or withdraw the promotion at any time and without prior notice.
Promoter: Halfords Autocentres Ltd, Icknield Street Drive, Redditch, Worcestershire, UK.